Authors Christmas Recommendations 2020 - Part II

Part II of a special series of posts in the run up to the holiday season! (Part I here) I asked a range of authors that have previously appeared on the site about their Christmas book recommendations. Hopefully these books might help you with your own Christmas shopping gift ideas too! :-)
~

Q. Is there a smart thinking book that you are looking forward to reading this Christmas, or one you would like to give or receive as a gift?
Siobhán Murray
This was a hard one!! But I think I'll go with Daily Stoic by Ryan Holiday - not a new book I know but it's still beautiful and I think very needed right now!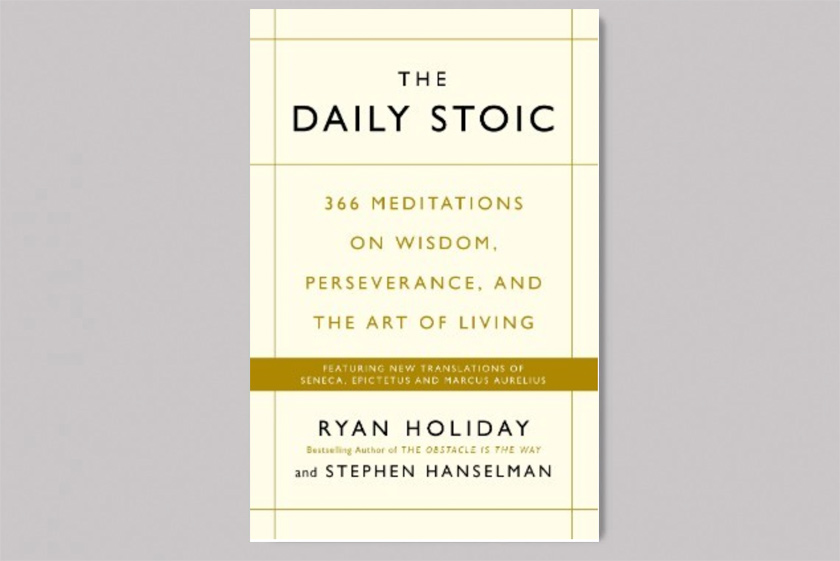 The Daily Stoic: 366 Meditations for Clarity, Effectiveness, and Serenity
The Daily Stoic distills the wisdom of the Stoics into one quote and interpretative paragraph per day. Philisophical insights from Stoic giants such as Marcus Aurelius and Seneca feature heavily along side lesser known practitioners such as Zeno and Musonius Rufus. The beauty of this book in the hand is matched by its promotion of continual practice; once you finish you can start again on page 1 and continue to gleen value from it amidst the backdrop of the ever changing context of modern life.

Buy On:
Book Depository

€10.08

Waterstones

£10.99

Wordery

$12.59

(All links earn commission from purchases. Prices accurate at time of writing)

You can read Siobhán's previous interview here, and please also check out Siobhán's book The Burnout Solution:


The Burnout Solution
Review from Book Depository: Burnout is a state of chronic stress that leads to physical and emotional exhaustion, cynicism, detachment, feelings of ineffectiveness and lack of accomplishment - many of the same symptoms as depression. Burnout is on the increase as we struggle to juggle the pressures of work and family life with a constant feeling of always being on.

Through her own experience of burnout and her work as a psychotherapist, Siobhan Murray has developed a 12-week plan for overcoming this condition. The Burnout Solution offers a step-by-step path through feelings of stress and anxiety towards renewed clarity of mind and an ability to prioritise the important things in life. Learn the beauty of saying no, rethink your boundaries, find your 'non-negotiables' and regain your power, passion and sense of purpose.
Buy On:
Book Depository

€11.70
Waterstones

£14.99
(All affiliate links earn commission from purchases that help fund this site. Prices accurate at time of writing)
Gill Hasson
My Christmas book recommendation is The Wild Silence by Raynor Winn. It's the follow up book to The Salt Path which Raynor wrote describing the 630 mile walk that she and her husband embarked upon after a business deal went wrong and left them homeless. The Salt Path was a story of hope, resilience and positivity. I'm looking forward to reading what happened next in Raynor and her husband's life.
The Wild Silence
Review From Book Depository: Nature holds the answers for Raynor and her husband Moth. After walking 630 miles homeless along The Salt Path, the windswept and wild English coastline now feels like their home. And despite Moth's terminal diagnosis, against all medical odds, he seems revitalized in nature - outside, they discover that anything is possible.

Now, life beyond The Salt Path awaits. As they return to four walls, the sense of home is illusive and returning to normality is proving difficult - until an incredible gesture by someone who reads their story changes everything: A chance to breathe life back into a beautiful but neglected farmhouse nestled deep in the Cornish hills; rewilding the land and returning nature to its hedgerows becomes their new path. Along the way, Raynor and Moth learn more about the land that envelopes them, find friends both new and old, and, of course, embark on another windswept adventure when the opportunity arises. The Wild Silence is a luminous story of hope triumphing over despair, of the human spirit's instinctive connection to nature, and of lifelong love prevailing over everything.

Buy On:
Book Depository

€12.94
Waterstones

£12.99
Wordery

$13.71
(All links earn commission from purchases. Prices accurate at time of writing)
The Salt Path
Review From Book Depository: Just days after Raynor learns that Moth, her husband of 32 years, is terminally ill, their home is taken away and they lose their livelihood. With nothing left and little time, they make the brave and impulsive decision to walk the 630 miles of the sea-swept South West Coast Path, from Somerset to Dorset, via Devon and Cornwall.

Carrying only the essentials for survival on their backs, they live wild in the ancient, weathered landscape of cliffs, sea and sky. Yet through every step, every encounter and every test along the way, their walk becomes a remarkable journey. The Salt Path is an honest and life-affirming true story of coming to terms with grief and the healing power of the natural world. Ultimately, it is a portrayal of home, and how it can be lost, rebuilt and rediscovered in the most unexpected ways.

Buy On:
Book Depository

€8.84

Waterstones

£12.99

Wordery

$11.02

(All links earn commission from purchases. Prices accurate at time of writing)

You can read Gill's previous interview here, and please also check out Gill's latest book Mental Health and Wellbeing in the Workplace: A Practical Guide for Employers and Employees.


Ben Mercer
Having finished it over the weekend, I'd wholeheartedly recommend The Almanack of Naval Ravikant by Eric Jorgenson as a gift for anyone interested in ways of interrogating life's big questions. It's a curatorial effort, amalgamating material from all sorts of places Naval has been; podcasts, interviews, tweets and more; and each page will make you stop and think.
The Almanack of Naval Ravikant: A Guide to Wealth and Happiness
Review From Book Depository: Getting rich is not just about luck; happiness is not just a trait we are born with. These aspirations may seem out of reach, but building wealth and being happy are skills we can learn. So what are these skills, and how do we learn them? What are the principles that should guide our efforts? What does progress really look like?

Naval Ravikant is an entrepreneur, philosopher, and investor who has captivated the world with his principles for building wealth and creating long-term happiness. The Almanack of Naval Ravikant is a collection of Naval's wisdom and experience from the last ten years, shared as a curation of his most insightful interviews and poignant reflections. This isn't a how-to book, or a step-by-step gimmick. Instead, through Naval's own words, you will learn how to walk your own unique path toward a happier, wealthier life.

Buy On:
Book Depository

€11.56

Waterstones

£12.99

(All links earn commission from purchases. Prices accurate at time of writing)

You can read Ben's previous interview here, and please also check out Ben's book Fringes: Life on the Edge of Professional Rugby:


Jodie Cook

At the moment mine are:
The Art of Resilience - Ross Edgley
Can't Hurt Me - Dave Goggins
The 5AM Club - Robin Sharma

The Art of Resilience
Review From Book Depository: Bestselling author and award-winning adventurer Ross Edgley has been studying the art of resilience for years, applying all he has learned to become the first person in history to swim around Great Britain, breaking multiple world records. Now Ross focuses on mental strength, stoicism and the training needed to create an unbreakable body. Ross Edgley famously ran a marathon pulling a 1.4-tonne car and climbed a rope the height of Everest (8,848m), after living with Yamabushi warrior monks in Japan and partaking in Shamanic pain rituals with fire ants in the Amazon jungle. On his epic 1,780-mile journey around Great Britain, which lasted 157 days, Ross swam through giant jellyfish, arctic storms, 'haunted' whirlpools and polluted shipping lanes, going so hard, and so fast, his tongue fell apart.

Ross's previous book, The World's Fittest Book, was a Sunday Times bestseller and explored the science of physical fitness. Now, in The Art of Resilience, Ross uses his swim experience and other amazing endurance feats, where he managed to overcome seemingly insurmountable pain, hardship and adversity, to study the performance of extreme athletes, military and fitness specialists and psychologists to uncover the secrets of mental fitness and explore the concept of resilience, persistence, valour and a disciplined mindset in overcoming adversity. This ground-breaking book represents a paradigm shift in what we thought the human body and mind were capable of and will give you a blueprint to become a tougher, more resilient and ultimately better human - whatever the challenge you face.

Buy On:
Book Depository

€16.91
Waterstones

£16.99
Wordery

$19.43
(All links earn commission from purchases. Prices accurate at time of writing)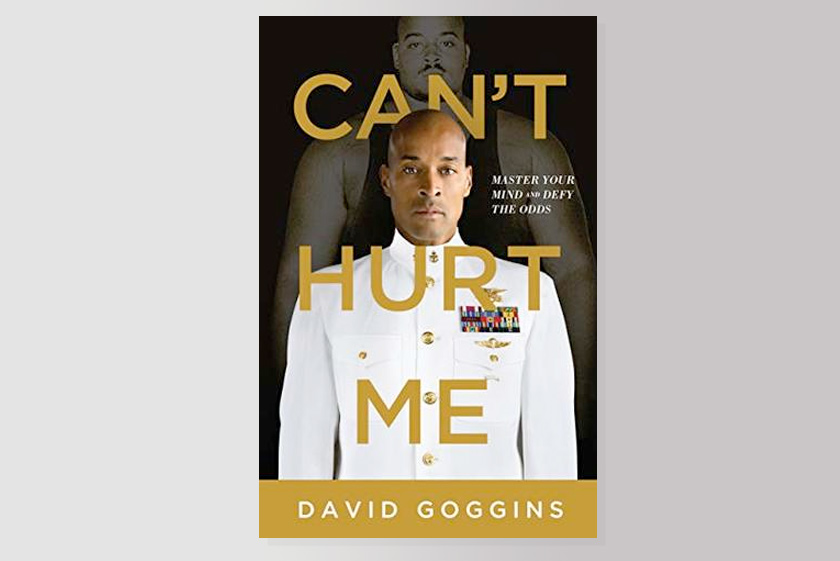 Can't Hurt Me: Master Your Mind and Defy the Odds
Review From Book Depository: For David Goggins, childhood was a nightmare -- poverty, prejudice, and physical abuse colored his days and haunted his nights. But through self-discipline, mental toughness, and hard work, Goggins transformed himself from a depressed, overweight young man with no future into a U.S. Armed Forces icon and one of the world's top endurance athletes. The only man in history to complete elite training as a Navy SEAL, Army Ranger, and Air Force Tactical Air Controller, he went on to set records in numerous endurance events, inspiring Outside magazine to name him "The Fittest (Real) Man in America."

In Can't Hurt Me, he shares his astonishing life story and reveals that most of us tap into only 40% of our capabilities. Goggins calls this The 40% Rule, and his story illuminates a path that anyone can follow to push past pain, demolish fear, and reach their full potential.

Buy On:
Book Depository

€16.82
Wordery

$19.75
(All links earn commission from purchases. Prices accurate at time of writing)
The 5am Club
Review From Wordery: Legendary leadership and elite performance expert Robin Sharma introduced The 5am Club concept over twenty years ago, based on a revolutionary morning routine that has helped his clients maximize their productivity, activate their best health and bulletproof their serenity in this age of overwhelming complexity.

Now, in this life-changing book, handcrafted by the author over a rigorous four-year period, you will discover the early-rising habit that has helped so many accomplish epic results while upgrading their happiness, helpfulness and feelings of aliveness.

Buy On:
Wordery

$14.01

(All links earn commission from purchases. Prices accurate at time of writing)

You can read Jodie's previous interview here, and please also check out Jodie's latest book Instagram Rules: The Essential Guide to Building Brands, Business and Community:


Tim Marshall
I'm looking forward to reading Beyond The Known by Andrew Rader. It's a concise narrative of the exploration of the planet from our earliest days to the Space Age. The subtitle is 'How exploration created the modern world and will take us to the stars'. The first 3/4 of the book takes us through the various adventures of histories explorers, the technology they used, and the changes they wrought. It's a clever way of telling our story and the incremental globalisation of the planet. The last 1/4 looks at space exploration and its incredible challenges, but I'm assuming the first section will have set the reader up with an understanding of how we have the ability to overcome them. I've spent the year ploughing through some difficult reads for current research, not all of which I understood… so its going to be pleasure to read a well written broad brush approach about a well chosen subject.'
Beyond the Known: How Exploration Created the Modern World and Will Take Us to the Stars
Review From Book Depository: From brilliant young polymath Andrew Rader - an MIT-credentialled scientist, popular podcast host and SpaceX mission manager - an illuminating chronicle of exploration that spotlights humans' insatiable desire to continually push into new and uncharted territory, from civilisation's earliest days to current planning for interstellar travel. For the first time in history, the human species has the technology to destroy itself. But, having developed that power, humans are also able to leave Earth and voyage into the vastness of space. After millions of years of evolution, we've arrived at the point where we can settle other worlds and begin the process of becoming multi-planetary. How did we get here? What does the future hold for us?

Divided into four accessible sections, Beyond the Known examines major periods of discovery and rediscovery, from Classical Times, when Phoenicians, Persians and Greeks ventured forth; to The Age of European Exploration, which saw colonies sprout on nearly every continent; to The Era of Scientific Inquiry, when researchers developed brand new tools for mapping and travelling further; to Our Spacefaring Future, which unveils plans currently underway for settling other planets and, eventually, travelling to the stars. A Mission Manager at SpaceX with a light, engaging voice, Andrew Rader is at the forefront of space exploration. As a gifted historian, Rader, who has won global acclaim for his stunning breadth of knowledge, is singularly positioned to reveal the story of human exploration that is also the story of scientific achievement. Told with an infectious zeal for travelling beyond the known, Beyond the Known illuminates how very human it is to emerge from the cave and walk towards an infinitely expanding horizon.

Buy On:
Book Depository

€16.27

Waterstones

£9.99

Wordery

$12.02

(All links earn commission from purchases. Prices accurate at time of writing)

You can read Tim's previous interview here, and please also check out Tim's latest book Shadowplay: Behind the Lines and Under Fire: The Inside Story of Europe's Last War:


Elizabeth Stokoe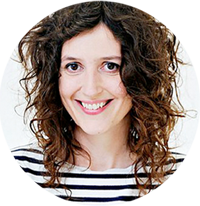 This is the book I want to read … but does it count as smart thinking!? - Only Happiness Here: In Search of Elizabeth von Arnim
Only Happiness Here: In Search of Elizabeth von Arnim
Review From Book Depository: Elizabeth von Arnim is one of the early 20th century's most famous - and forgotten -authors. Born in Sydney in the mid 1800s, she went on to write many internationally bestselling novels, marry a Prussian Count and then an English Lord, nurture close friendships with H.G. Wells and E.M. Forster and raise five children.

Her novels were ahead of their time in their representation of women and their pursuit of happiness. Intrigued by von Arnim's extraordinary life and vibrant career, Gabrielle Carey sets off on a literary and philosophical journey to know more about this talented author. From the Prime Minister's Literary Award winner of Moving Among Strangers, Only Happiness Here is part biography, part memoir and part reflection on human nature's obsession with finding joy.

Buy On:
Book Depository

€26.75

(All links earn commission from purchases. Prices accurate at time of writing)

You can read Elizabeth's previous interview here, and please also check out Elizabeth's book Talk : The Science of Conversation:



~


Huge thanks to Siobhán, Gill, Ben, Jodie, Tim & Elizabeth for their great Christmas book picks!
Watch out next week for Part III of the series with more author recommendations :-)
Daryl




Image Copyrights: Profile Books Ltd (Daily Stoic), Gill (The Burnout Solution), Penguin Books Ltd (The Wild Silence, The Salt Path), John Wiley and Sons Ltd (Mental Health and Wellbeing in the Workplace), Magrathea Publishing (The Almanack of Naval Ravikant), Ben Mercer (Fringes), HarperCollins Publishers (The Art of Resilience, The 5am Club), Lioncrest Publishing (Can't Hurt Me), White Lion Publishing (Instagram Rules), Simon & Schuster Ltd (Beyond The Known), Elliott & Thompson Limited (Shadowplay), University of Queensland Press (Only Happiness Here).


< Home