Interview with Sara Hendren, author of What Can a Body Do?: How We Meet the Built World

Sara Hendren, author of What Can a Body Do?: How We Meet the Built World, shares a fascinating list of books with us! Before jumping into the interview, please check out Sara's book:
What Can a Body Do?: How We Meet the Built World
Review from Book Depository: A fascinating and provocative new way of looking at the things we use and the spaces we inhabit, and a call to imagine a better-designed world for us all. Furniture and tools, kitchens and campuses and city streets--nearly everything human beings make and use is assistive technology, meant to bridge the gap between body and world. Yet unless, or until, a misfit between our own body and the world is acute enough to be understood as disability, we may never stop to consider--or reconsider--the hidden assumptions on which our everyday environment is built.

In a series of vivid stories drawn from the lived experience of disability and the ideas and innovations that have emerged from it--from cyborg arms to customizable cardboard chairs to deaf architecture --Sara Hendren invites us to rethink the things and settings we live with. What might assistance based on the body's stunning capacity for adaptation--rather than a rigid insistence on "normalcy"--look like? Can we foster interdependent, not just independent, living? How do we creatively engineer public spaces that allow us all to navigate our common terrain?

By rendering familiar objects and environments newly strange and wondrous, What Can a Body Do? helps us imagine a future that will better meet the extraordinary range of our collective needs and desires.
Buy On:
Book Depository €18.32 Waterstones £22.99 Wordery $20.62

(All affiliate links earn commission from purchases that help fund this site. Prices accurate at time of writing)
~

Q. Do you have a favourite smart thinking book (and why that book)?
If I had to pick one, I'd probably land at Annie Dillard's ​Pilgrim at Tinker Creek​, because I read it at the right developmental moment—as an earnest art major in college. I was desperately seeking some language for ideas that writers have described for centuries but which I was discovering then for the first time: the miraculous senselessness and weird fecundity of nature. It's the kind of awe-striking book that makes our interior lives, so often preoccupied with self, seem small by comparison. Dillard's speech is at its most incantatory there. She's one of my favorite writers ingeneral.
Pilgrim at Tinker Creek
Review From Book Depository: Pilgrim at Tinker Creek is the story of a dramatic year in Virginia's Roanoke Valley. Annie Dillard sets out to see what she can see. What she sees are astonishing incidents of beauty tangled in a rapture with violence.

Dillard's personal narrative highlights one year's exploration on foot in the Virginia region through which Tinker Creek runs. In the summer, she stalks muskrats in the creek and contemplates wave mechanics; in the fall, she watches a monarch butterfly migration and dreams of Arctic caribou. She tries to con a coot; she collects pond water and examines it under a microscope. She unties a snake skin, witnesses a flood, and plays King of the Meadow with a field of grasshoppers. The result is an exhilarating tale of nature and its seasons.
Buy On:
Book Depository €10.58 Waterstones £10.99 Wordery $13.58

(All links earn commission from purchases. Prices accurate at time of writing)
Q. What's the most recent smart thinking book you've read (and how would you rate it)?
I just tore through Zadie Smith's ​Intimations — it's always a pleasure to consume a book whole, in a couple of days. I'm a Smith completist, I think; whatever she writes, I'll read. This one was more like one long essay rather than a series; it didn't rise to be my favorite of her work. But hers is a consciousness that I'll follow, because she's always grappling, digging deeper. (3 stars)

I read every word of Nick Hornby's ​Ten Years in the Tub​ — his collected book criticism from The Believer. I read one each night till it was done, and I can't remember a more delicious reading experience. Hornby has this lock on a voice that is equal parts wry, joyful, and probing. It's hard to get right. Watching him bring that voice to the books he reads, old and new, purchased or scrounged or borrowed, is such a pleasure. (5 stars)

An essayistic novel that too few people have read is J.M. Coetzee's ​Elizabeth Costello​. I don't know how he pulls it off, but he manages to create a believable, concrete professor character who also acts as a vehicle for philosophical treatises in the form of lectures. It really shouldn't work! There's a good reason that fiction rules include: Don't make a character into a mouthpiece for abstractions. But Coetzee is able to do what many of us writers can't. (5 stars)

I just started Jia Tolentino's ​Trick Mirror​ and the first essay, "The I in the Internet," was full of the cleanest possible critique of the social internet I've read. I've been thinking about it every day since. I've been nursing some real discontent for a long time about social media, and this was the kind of essay that switched on some important lights for me; I'll be changing up my habits accordingly. (no rating yet)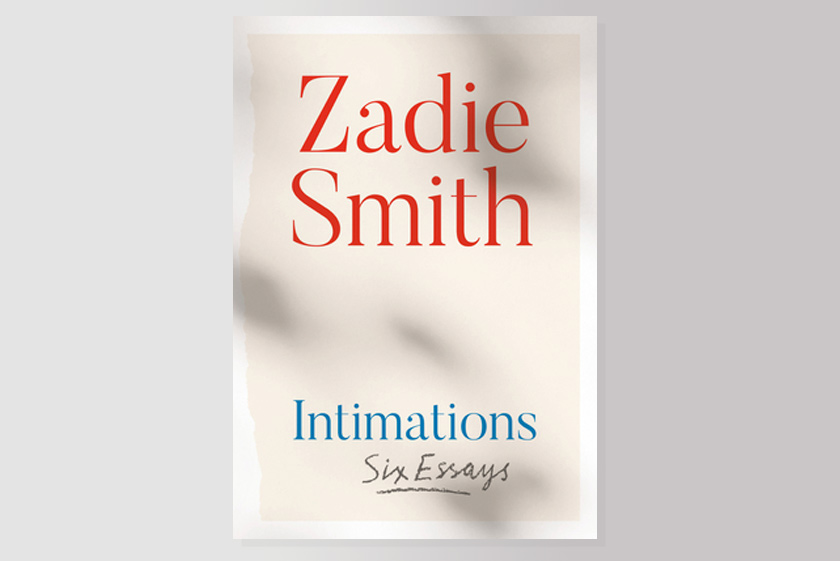 Intimations: Six Essays
Review From Book Depository: Deeply personal and powerfully moving, a short and timely series of essays on the experience of lockdown, by one of the most clear-sighted and essential writers of our time

From the critically acclaimed author of Feel Free, Swing Time, White Teeth and many more

'There will be many books written about the year 2020: historical, analytic, political and comprehensive accounts. This is not any of those - the year isn't half-way done. What I've tried to do is organize some of the feelings and thoughts that events, so far, have provoked in me, in those scraps of time the year itself has allowed. These are above all personal essays: small by definition, short by necessity.'

Crafted with the sharp intelligence, wit and style that have won Zadie Smith millions of fans, and suffused with a profound intimacy and tenderness in response to these unprecedented times, Intimations is a vital work of art, a gesture of connection and an act of love - an essential book in extraordinary times.

Buy On:
Book Depository €5.67 Waterstones £5.99 Wordery $6.39

(All links earn commission from purchases. Prices accurate at time of writing)
Q. Do you have a favourite childhood book?
Can I tell you my best experience of a children's book that I read aloud to my own kids? Adam Gidwitz's ​The Inquisitor's Tale​. I'm waiting to have that kind of experience again—the deep humor and suspense that then opens up to a meditation about personhood and the role of stories in our own lives. That was peak bedtime-story parenting, and I'll never forget it.


The Inquisitor's Tale: Or, the Three Magical Children and Their Holy Dog
Review From Book Depository: 1242. On a dark night, travelers from across France cross paths at an inn and begin to tell stories of three children. Their adventures take them on a chase through France: they are taken captive by knights, sit alongside a king, and save the land from a farting dragon. On the run to escape prejudice and persecution and save precious and holy texts from being burned, their quest drives them forward to a final showdown at Mont Saint-Michel, where all will come to question if these children can perform the miracles of saints. Join William, an oblate on a mission from his monastery; Jacob, a Jewish boy who has fled his burning village; and Jeanne, a peasant girl who hides her prophetic visions.

They are accompanied by Jeanne's loyal greyhound, Gwenforte . . . recently brought back from the dead. Told in multiple voices, in a style reminiscent of The Canterbury Tales, our narrator collects their stories and the saga of these three unlikely allies begins to come together. Beloved bestselling author Adam Gidwitz makes his long awaited return with his first new world since his hilarious and critically acclaimed Grimm series. Featuring manuscript illuminations throughout by illustrator Hatem Aly and filled with Adam's trademark style and humor, The Inquisitor's Tale is bold storytelling that's richly researched and adventure-packed.

Buy On:
Book Depository €15.30 Wordery $17.22

(All links earn commission from purchases that help fund this site. Prices accurate at time of writing)
Q. Do you prefer reading on paper, Kindle or listening to an audiobook?
Almost entirely paper. Though in the pandemic, I've taken up some audio listening while I walk afterdinner in my neighborhood. I've admired other people's gardens at a very, very slow pace whilelistening to Parker Palmer and Pema Chodron.


Q. Do you have a favourite bookshop (and why that shop)?
Harvard Bookstore is my local—it always smells faintly of the waxy glue of bookbinding and is always hopping, at least in non-COVID circumstances. I've wandered into and out of lots of author events there on random evenings. My favorite pastime, pre-March 2020, was to walk there from my own neighborhood and get some sweet potato fries and a lime rickey from the burger place next door. I'd stand outside the windows of Harvard Bookstore, browsing the titles and getting those alternating hits of salt and sweet. The burger place is closing down after a billion years, alas, but the bookshop seems to be making it. Fingers crossed!
~

Massive thanks to Sara for answering my questions and for her fascinating book recommendations! Please don't forget to check out her book What Can a Body Do?: How We Meet the Built World.
Daryl
Image Copyrights: Prentice Hall Press (What Can A Body Do?), Canterbury Press Norwich (Pilgrim at Tinker Creek), Penguin Books Ltd (Intimations), McSweeney's (Ten Years in the Tub), Vintage Publishing (Elizabeth Costello), HarperCollins Publishers (Trick Mirror), Dutton Books for Young Readers (The Inquisitor's Tale).
< Home