Interview with Mark Blyth, co-author of Angrynomics

Mark Blyth, co-author of Angrynomics, shares an intriguing list of books! Before jumping into the interview, please check out Mark's book: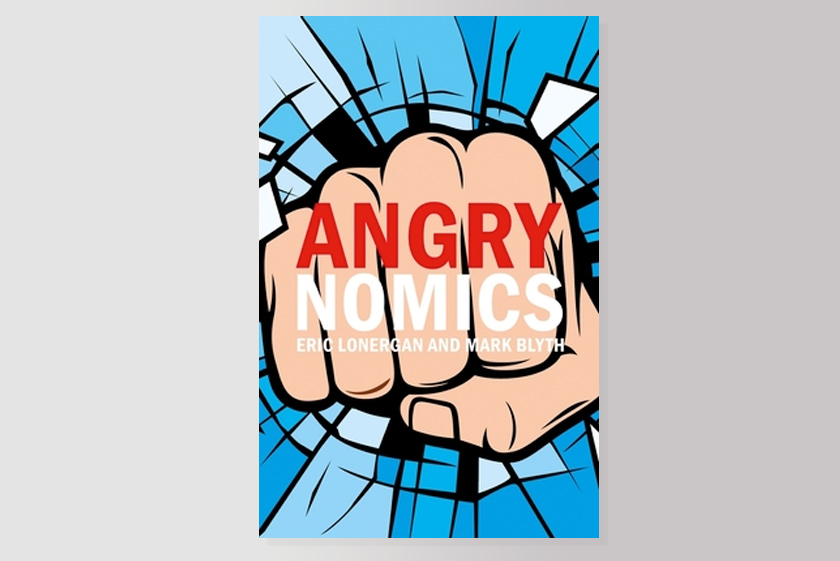 Angrynomics
Review from Waterstones: Why are measures of stress and anxiety on the rise, when economists and politicians tell us we have never had it so good? While statistics tell us that the vast majority of people are getting steadily richer the world most of us experience day-in and day-out feels increasingly uncertain, unfair, and ever more expensive.

In Angrynomics, Eric Lonergan and Mark Blyth explore the rising tide of anger, sometimes righteous and useful, sometimes destructive and ill-targeted, and propose radical new solutions for an increasingly polarized and confusing world. Angrynomics is for anyone wondering, where the hell do we go from here?
Buy On:
Waterstones £12.99 Wordery $16.06

(All affiliate links earn commission from purchases that help fund this site. Prices accurate at time of writing)
~

Q. Do you have a favourite smart thinking book (and why that book)?
I'd have to say its Albert Hirschman's The Rhetoric of Reaction: Perversity, Futility, Jeopardy (Harvard Belknap 1991). No, it's not about perversity. It's about how all, and I mean all, arguments against 'doing things' to change the status quo in politics and the economy can be grouped into three buckets. First, perversity – 'if you try to make the poor rich you will only make the rich poor,' etc. Second, Futility, - 'you can try and regulate the banks but they will only end up owning the regulators, etc.' Third, jeopardy – 'if you act now on climate change you will only harm the economy.' Four centuries of examples written with panache and humor. A delight for the brain.
The Rhetoric of Reaction: Perversity, Futility, Jeopardy
Review From Book Depository: With engaging wit and subtle irony, Albert Hirschman maps the diffuse and treacherous world of reactionary rhetoric in which conservative public figures, thinkers, and polemicists have been arguing against progressive agendas and reforms for the past two hundred years.

Hirschman draws his examples from three successive waves of reactive thought that arose in response to the liberal ideas of the French Revolution and the Declaration of the Rights of Man, to democratization and the drive toward universal suffrage in the nineteenth century, and to the welfare state in our own century. In each case he identifies three principal arguments invariably used: (1) the perversity thesis, whereby any action to improve some feature of the political, social, or economic order is alleged to result in the exact opposite of what was intended; (2) the futility thesis, which predicts that attempts at social transformation will produce no effects whatever--will simply be incapable of making a dent in the status quo; (3) the jeopardy thesis, holding that the cost of the proposed reform is unacceptable because it will endanger previous hard-won accomplishments. He illustrates these propositions by citing writers across the centuries from Alexis de Tocqueville to George Stigler, Herbert Spencer to Jay Forrester, Edmund Burke to Charles Murray.

Finally, in a lightning turnabout, he shows that progressives are frequently apt to employ closely related rhetorical postures, which are as biased as their reactionary counterparts. For those who aspire to the genuine dialogue that characterizes a truly democratic society, Hirschman points out that both types of rhetoric function, in effect, as contraptions designed to make debate impossible. In the process, his book makes an original contribution to democratic thought.The Rhetoric of Reaction is a delightful handbook for all discussions of public affairs, the welfare state, and the history of social, economic, and political thought, whether conducted by ordinary citizens or academics.
Buy On:
Book Depository €21.81 Waterstones £26.95 Wordery $24.76

(All links earn commission from purchases. Prices accurate at time of writing)
Q. What's the most recent smart thinking book you've read (and how would you rate it)?
It's coming out soon. I read an advance copy to blurb it. Brett Christophers, Rentier Capitalism: Who Owns the Economy and Who Pay's for It (London: Verso 2020). Few books come along that fundamentally challenge the way you see the world. This is one of them. Christophers rewired my understanding of capitalism on a fundamental level showing me how the control of assets and the rents that they produce, in sectors as different as digital platforms and shopping malls, oil companies and telecoms, airlines and banks, have come to define the modern economy. From there he shows us why 'rentiers' are the root cause of all the issues that we face from rising inequality to falling productivity. I rate it as the most important book since Adam Tooze's Crashed.
Rentier Capitalism: Who Owns the Economy, and Who Pays for It?
Review From Waterstones: In this landmark book, the author of The New Enclosure provides a forensic examination and sweeping critique of early-twenty-first-century capitalism. Brett Christophers styles this as 'rentier capitalism', in which ownership of key types of scarce assets - such as land, intellectual property, natural resources, or digital platforms - is all-important and dominated by a few unfathomably wealthy companies and individuals: rentiers.

If a small elite owns today's economy, everybody else foots the bill. Nowhere is this divergence starker, Christophers shows, than in the United Kingdom, where the prototypical ills of rentier capitalism - vast inequalities combined with entrenched economic stagnation - are on full display and have led the country inexorably to the precipice of Brexit. With profound lessons for other countries subject to rentier dominance, Christophers' examination of the UK case is indispensable to those wanting not just to understand this insidious economic phenomenon but to overcome it. Frequently invoked but never previously analysed and illuminated in all its depth and variety, rentier capitalism is here laid bare for the first time.

Buy On:
Waterstones £25.00

(All links earn commission from purchases. Prices accurate at time of writing)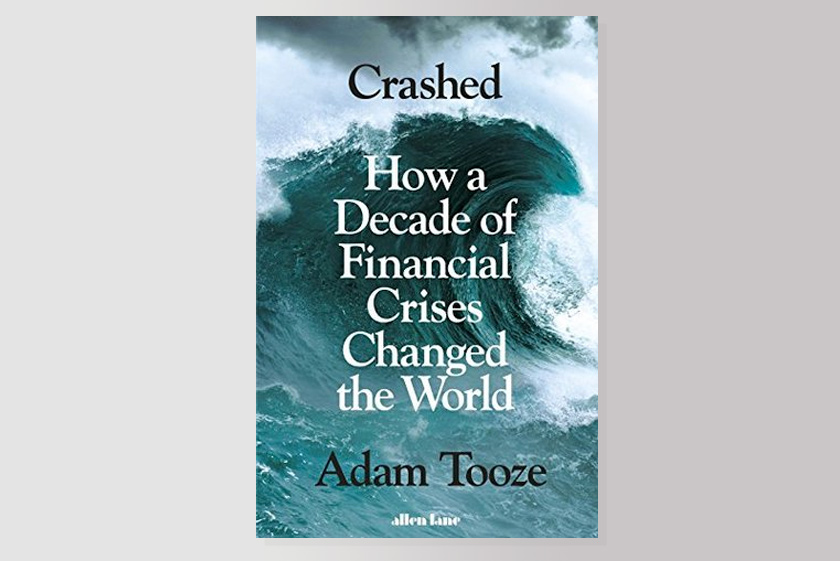 Crashed: How a Decade of Financial Crises Changed the World
Review From Book Depository: The definitive history of the Great Financial Crisis, from the acclaimed author of The Deluge and The Wages of Destruction.

In September 2008 the Great Financial Crisis, triggered by the collapse of Lehman brothers, shook the world. A decade later its spectre still haunts us. As the appalling scope and scale of the crash was revealed, the financial institutions that had symbolised the West's triumph since the end of the Cold War, seemed - through greed, malice and incompetence - to be about to bring the entire system to its knees.

Crashed is a brilliantly original and assured analysis of what happened and how we were rescued from something even worse - but at a price which continues to undermine democracy across Europe and the United States. Gnawing away at our institutions are the many billions of dollars which were conjured up to prevent complete collapse. Over and over again, the end of the crisis has been announced, but it continues to hound us - whether in Greece or Ukraine, whether through Brexit or Trump. Adam Tooze follows the trail like no previous writer and has written a book compelling as history, as economic analysis and as political horror story.

Buy On:
Book Depository €11.41 Waterstones £12.99 Wordery $12.41

(All links earn commission from purchases. Prices accurate at time of writing)
Q. Do you have a favourite childhood book?
Not really in terms of fiction. I want to say Philip Pullman's Lyra trilogy, but I read that as a grown up. When I was a kid I read tons of non-fiction. I still do. Actually, now that I think about it I do have one. It was The Guinness Book of Records. I got one for Christmas when I was about nine and read it almost cover to cover. I then got one each year till I was about age thirteen and did the same. It made me an academic on some level.


His Dark Materials
Review From Book Depository: This special collection features all three titles in the award-winning trilogy: Northern Lights, The Subtle Knife and The Amber Spyglass.

Northern Lights
Lyra Belacqua lives half-wild and carefree among the scholars of Jordan College, with her daemon familiar always by her side. But the arrival of her fearsome uncle, Lord Asriel, draws her to the heart of a terrible struggle - a struggle born of Gobblers and stolen children, witch clans and armoured bears.

The Subtle Knife
Lyra finds herself in a shimmering, haunted otherworld - Cittagazze, where soul-eating Spectres stalk the streets and wingbeats of distant angels sound against the sky. But she is not without allies: twelve-year-old Will Parry, fleeing for his life after taking another's, has also stumbled into this strange new realm. On a perilous journey from world to world, Lyra and Will uncover a deadly secret: an object of extraordinary and devastating power. And with every step, they move closer to an even greater threat - and the shattering truth of their own destiny.

The Amber Spyglass
Will and Lyra, whose fates are bound together by powers beyond their own worlds, have been violently separated. But they must find each other, for ahead of them lies the greatest war that has ever been - and a journey to a dark place from which no one has ever returned

Buy On:
Book Depository €16.20 Waterstones £18.99 Wordery $17.62

(All links earn commission from purchases that help fund this site. Prices accurate at time of writing)
Guinness World Records 2020 : The Bestselling Annual Book of Records
Review From Book Depository: Celebrate the dawning of a new decade with the fully revised Guinness World Records 2020. To kick off the '20s, we've created an electrifying new cover and curated a record-breaking edition packaged with thousands of new, updated and classic superlatives, hundreds of never-before-seen images, and a selection of eye-opening photo-composites that put a new spin on record-breaking...

Buy On:
Book Depository €15.33 Waterstones £10.00

(All links earn commission from purchases that help fund this site. Prices accurate at time of writing)
Q. Do you prefer reading on paper, Kindle or listening to an audiobook?
Paper over Kindle, certainly. I used to commute to Providence from Boston four times a week so I listened to a lot of audiobooks in the car. I actually listened to all of Piketty's Capitalism in the 21st Century on audiobook. I think it took 26 hours. It really changed my appreciation of the book. The book got attention because of his numbers on inequality. But those really start in chapter five. So with the physical copy I suspect that people jump to chapter five. In doing so they miss the importance of the long but vital chapter two, where Piketty reformulates the Solow growth model. Unless you get that, you miss why he says what he says in the rest of the book. Much of criticism of the book, I'm convinced, comes from readers skipping those early chapters. So yes, I like audiobooks, long one, in the car.


Q. Do you have a favourite bookshop (and why that shop)?
Yes, Cărturești Carusel Bookstore in Bucharest, Romania. Its gobsmackingly beautiful and so international. You can find books in dozens of languages. Romania is such a cool country. At a time when the rest of the world's national 'literary cultures' are being demolished by digital media and the spread of English, Romania remains a deeply literate and multilingual society. Siting there and soaking it up is a real pleasure.
~

Huge thanks to Mark for his intriguing book recommendations! Please don't forget to check out his new book Angrynomics.
Daryl
Image Copyrights: Agenda Publishing (Angrynomics), Harvard University Press (The Rhetoric of Reaction), Verso Books (Rentier Capitalism), Penguin Books Ltd (Crashed), Scholastic (His Dark Materials), Guinness World Records Limited (Guinness World Records 2020).
< Home