Interview with Joanne McNeil, author of Lurking: How a Person Became a User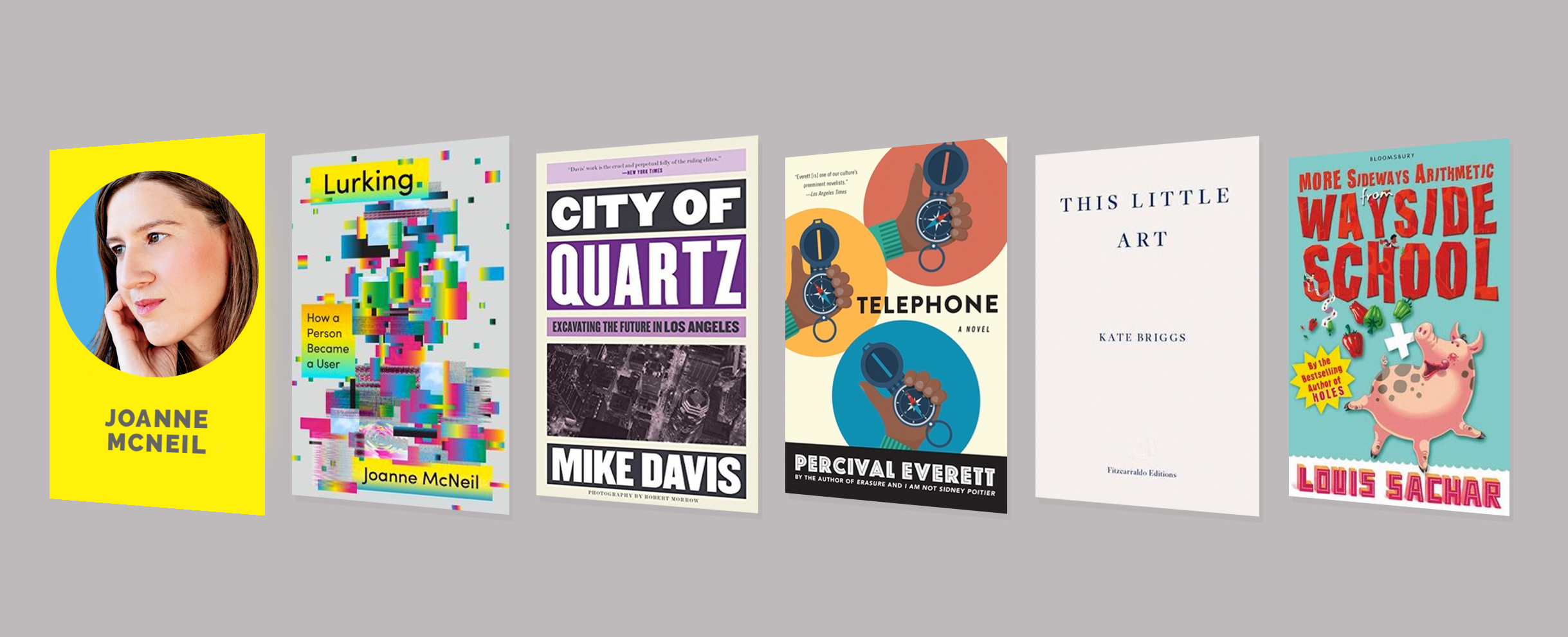 Joanne McNeil, author of Lurking: How a Person Became a User, recommends a fantastic selection of books! Before jumping into the interview, please check out Joanne's book:
Lurking: How a Person Became a User
Review from Book Depository: A concise but wide-ranging personal history of the internet from--for the first time--the point of view of the user In a shockingly short amount of time, the internet has bound people around the world together and torn us apart and changed not just the way we communicate but who we are and who we can be. It has created a new, unprecedented cultural space that we are all a part of--even if we don't participate, that is how we participate--but by which we're continually surprised, betrayed, enriched, befuddled. We have churned through platforms and technologies and in turn been churned by them. And yet, the internet is us and always has been.

In Lurking, Joanne McNeil digs deep and identifies the primary (if sometimes contradictory) concerns of people online: searching, safety, privacy, identity, community, anonymity, and visibility. She charts what it is that brought people online and what keeps us here even as the social equations of digital life--what we're made to trade, knowingly or otherwise, for the benefits of the internet--have shifted radically beneath us. It is a story we are accustomed to hearing as tales of entrepreneurs and visionaries and dynamic and powerful corporations, but there is a more profound, intimate story that hasn't yet been told. Long one of the most incisive, ferociously intelligent, and widely respected cultural critics online, McNeil here establishes a singular vision of who we are now, tells the stories of how we became us, and helps us start to figure out what we do now.
Buy On:
Book Depository €19.08 Waterstones £21.99 Wordery $22.13

(All affiliate links earn commission from purchases that help fund this site. Prices accurate at time of writing)
~

Q. Do you have a favourite smart thinking book (and why that book)?
City of Quartz by Mike Davis is the first book that came to mind. Perhaps it came to mind because of those shocking images of orange skies on the West Coast the other week. The book is as dense and vagarious and dizzying as its subject: the city of Los Angeles. It is exhaustive with details while strongly atmospheric given the evocative subject matter. It reads like obsessive worldbuilding in a cyberpunk novel. This is a must for anyone bewitched by this "city without boundaries, which ate the desert, cut down the Joshua and the May Pole, and dreamt of becoming infinite."


City of Quartz: Excavating the Future in Los Angeles
Review From Book Depository: No metropolis has been more loved or more hated. To its official boosters, 'Los Angeles brings it all together.' To detractors, LA is a sunlit mortuary where 'you can rot without feeling it.' To Mike Davis, the author of this fiercely elegant and wide-ranging work of social history, Los Angeles is both utopia and dystopia, a place where the last Joshua trees are being plowed under to make room for model communities in the desert, where the rich have hired their own police to fend off street gangs, as well as armed Beirut militias.

In City of Quartz, Davis reconstructs LA's shadow history and dissects its ethereal economy. He tells us who has the power and how they hold on to it. He gives us a city of Dickensian extremes, Pynchonesque conspiracies, and a desperation straight out of Nathaniel Westa city in which we may glimpse our own future mirrored with terrifying clarity.
Buy On:
Book Depository €12.13 Waterstones £12.99 Wordery $14.85

(All links earn commission from purchases. Prices accurate at time of writing)
Q. What's the most recent smart thinking book you've read (and how would you rate it)?
I'm slowly working my way through Percival Everett's novels, which are each so different. I was under the impression Telephone, his latest, was more of an experiment as three different manuscripts were published at once under the same title. To my surprise, I found it to be a near perfect novel — certainly one of his finest works, and not a side project at all. Was it the version I read, the mood I was in when I read it? Would my impression of it be much different if I had read one of the other two versions or if I picked it up on a different day? All of these questions I have that linger around my appreciation of the book serve to underscore its themes. It is overwhelming what this book achieves.

Another book I read recently that I keep recommending is This Little Art by Kate Briggs. It's a delightful book on the intricacies of translation and so much more. Some of the most insightful parts are about what a reader brings when they read the words on a page written by someone else. Briggs is so funny and casually brilliant. The book reads like she had a fun time writing it, which is both infectious and evidence that she knows her subject through and through.


Telephone
Review From Book Depository: Zach Wells is a perpetually dissatisfied geologist-slash-paleobiologist. Expert in a very narrow area--the geological history of a cave forty-four meters above the Colorado River in the Grand Canyon--he is a laconic man who plays chess with his daughter, trades puns with his wife while she does yoga, and dodges committee work at the college where he teaches.

After a field trip to the desert yields nothing more than a colleague with a tenure problem and a student with an unwelcome crush on him, Wells returns home to find his world crumbling. His daughter has lost her edge at chess, she has developed mysterious eye problems, and her memory has lost its grasp. Powerless in the face of his daughter's slow deterioration, he finds a mysterious note asking for help tucked into the pocket of a jacket he's ordered off eBay. Desperate for someone to save, he sets off to New Mexico in secret on a quixotic rescue mission.

A deeply affecting story about the lengths to which loss and grief will drive us, Telephone is a Percival Everett novel we should have seen coming all along, one that will shake you to the core as it asks questions about the power of narrative to save.
Buy On:
Book Depository €10.59 Waterstones £12.99 Wordery $12.85

(All links earn commission from purchases. Prices accurate at time of writing)
This Little Art
Review From Book Depository: An essay with the reach and momentum of a novel, Kate Briggs's THIS LITTLE ART is a genre-bending song for the practice of literary translation, offering fresh, fierce and timely thinking on reading, writing and living with the works of others.

Taking her own experience of translating Roland Barthes's lecture notes as a starting point, the author threads various stories together to give us this portrait of translation as a compelling, complex and intensely relational activity. She recounts the story of Helen Lowe-Porter's translations of Thomas Mann, and their posthumous vilification. She writes about the loving relationship between Andre Gide and his translator Dorothy Bussy. She recalls how Robinson Crusoe laboriously made a table, for him for the first time, on an undeserted island. With THIS LITTLE ART, a beautifully layered account of a subjective translating experience, Kate Briggs emerges as a truly remarkable writer: distinctive, wise, frank, funny and utterly original.
Buy On:
Book Depository €11.46 Waterstones £12.99 Wordery $14.24

(All links earn commission from purchases. Prices accurate at time of writing)
Q. Do you have a favourite childhood book?
The Wayside School books by Louis Sachar were my favorites. The series is set a school that was accidentally built thirty classroom-size stories high instead of thirty classrooms in a row on a single floor—and that's just where the kookiness and oddities begin. The books typically have thirty chapters each with a little fable-like story that takes place on a classroom floor. But the book I remember best, Sideways Arithmetic from Wayside School was meant to demonstrate what the students actually learned with a story that revolves around simple logic and cryptogram puzzles. The math teacher would ask students to answer questions like "ears plus ears" or "she plus eel," where the letter "a" would equal 5 or something like that. I found this all fascinating as a kid.


Sideways Arithmetic From Wayside School
Review From Book Depository: Welcome back to maths class at Wayside School. How much is PEPPERS + PIG LIPS? If Jenny's shirt has sparkles on it, will Todd have egg in his hair? These Sideways Arithmetic problems may look puzzling at first, but you can use real maths to solve them, and the answers are perfectly logical. There are lots of clues and hints, plus all the answers are right there in the book. Best of all, the children you have read about in the other books about Wayside School are here to help you! Try solving these, and more than fifty other maths brainteasers, along with the kids from Mrs. Jewls' class. You'll learn a lot about maths but you'll be laughing too much to notice!

Buy On:
Book Depository €6.52 Waterstones £6.99 Wordery $8.01

(All links earn commission from purchases that help fund this site. Prices accurate at time of writing)
Q. Do you prefer reading on paper, Kindle or listening to an audiobook?
Depends on the book. I usually underline and highlight and leave sticky notes and otherwise engage with physical books. But ebooks are good for traveling. I like audiobooks for essay collections, especially when read by the author.


Q. Do you have a favourite bookshop (and why that shop)?
I love visiting Riffraff in Providence, Rhode Island, because they put so much care into their selection and their love of books comes through in what is on display. It is a great place especially to find books from indie presses and translated literature.
~

Many thanks to Joanne for her fantastic book recommendations! Please don't forget to check out her book Lurking: How a Person Became a User.
Daryl
Image Copyrights: MCD (Lurking), Telephone Verso Books (City of Quartz), Graywolf Press,U.S. (Telephone), Fitzcarraldo Editions (This Little Art), Bloomsbury Publishing PLC (More Sideways Arithmetic from Wayward School)
< Home