Interview with Manchán Magan, author of Thirty-Two Words for Field : Lost Words of the Irish Landscape

Manchán Magan, author of Thirty-Two Words for Field : Lost Words of the Irish Landscape, recommends a fantastic list of books! Before jumping into the interview, please check out Manchán's book:
Thirty-Two Words for Field : Lost Words of the Irish Landscape
Review from Book Depository: The Irish language has thirty-two words for field.
Among them are:
Geamhar - a field of corn-grass
Tuar - a field for cattle at night
Reidhlean - a field for games or dancing
Cathairin - a field with a fairy-dwelling in it

The richness of a language closely tied to the natural landscape offered our ancestors a more magical way of seeing the world. Before we cast old words aside, let us consider the sublime beauty and profound oddness of the ancient tongue that has been spoken on this island for almost 3,000 years. In Thirty-Two Words for Field, Manchan Magan meditates on these words - and the nuances of a way of life that is disappearing with them.
Buy On:
Book Depository €15.89 Waterstones £18.99

(All affiliate links earn commission from purchases that help fund this site. Prices accurate at time of writing)
~

Q. Do you have a favourite smart thinking book (and why that book)?
Peter Wohlleben's The Hidden Life of Trees altered my entire take on the natural world when I first read it 3 years ago. His insights about how trees communicate with each other, how they protect each other and live in complex, mutually beneficial relationship with each other was totally revelatory. It changed everything about how I regarded nature, and how I imagined humans fitting in to the natural world. The idea that nature isn't competing, but cooperating is so powerful. And, of course it's not just an idea, Wohlleben clearly lays out the latest science that proves this. It's a humble, poetic, visionary book that cannot but make one realise how precious and complex natural ecosystems are, and how vital it is that we protect and preserve them. This simple eloquent book will make you rethink everything to assumed about the natural world.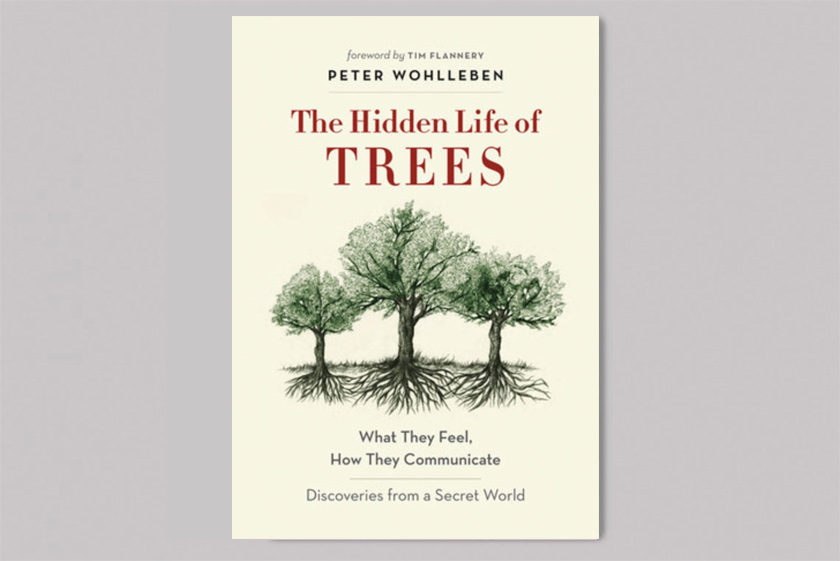 The Hidden Life of Trees: What They Feel, How They Communicate – Discoveries from a Secret World
Review From Book Depository: In this international bestseller, forester and author Peter Wohlleben convincingly makes the case that, yes, the forest is a social network. He draws on groundbreaking scientific discoveries to describe how trees are like human families: tree parents live together with their children, communicate with them, support them as they grow, share nutrients with those who are sick or struggling, and even warn each other of impending dangers. Wohlleben also shares his deep love of woods and forests, explaining the amazing processes of life, death, and regeneration he has observed in his woodland. After learning about the complex life of trees, a walk in the woods will never be the same again. Includes a Note From a Forest Scientist, by Dr.Suzanne Simard.

Buy On:
Book Depository €18.18 Waterstones £9.99 Wordery $10.75

(All links earn commission from purchases. Prices accurate at time of writing)
Q. What's the most recent smart thinking book you've read (and how would you rate it)?
My most recent Smart Thinking Book is Wildings by Isabella Tree. In a time of such uncertainty and despair about how to live sustainably on the land, how to live in harmony with nature and how to feed people in an ethical and ecological way, Isabella Tree paints an idyllic vision of an alternative world; one that is utterly practical and realistic. She has tried and tested every single idea she highlights. It is by far the most optimistic book I've read in many years and changes one's whole perspective on how we can live in a thriving and successful way on this island. It introduces so many bold and revolutionary ideas, and makes one see how they really are practical and feasible, if we had the courage to implement them.


Wilding
Review From Book Depository: In Wilding, Isabella Tree tells the story of the 'Knepp experiment', a pioneering rewilding project in West Sussex, using free-roaming grazing animals to create new habitats for wildlife. Part gripping memoir, part fascinating account of the ecology of our countryside, Wilding is, above all, an inspiring story of hope.

Winner of the Richard Jefferies Society and White Horse Book Shop Literary Prize.

Forced to accept that intensive farming on the heavy clay of their land at Knepp was economically unsustainable, Isabella Tree and her husband Charlie Burrell made a spectacular leap of faith: they decided to step back and let nature take over. Thanks to the introduction of free-roaming cattle, ponies, pigs and deer - proxies of the large animals that once roamed Britain - the 3,500 acre project has seen extraordinary increases in wildlife numbers and diversity in little over a decade.

Extremely rare species, including turtle doves, nightingales, peregrine falcons, lesser spotted woodpeckers and purple emperor butterflies, are now breeding at Knepp, and populations of other species are rocketing. The Burrells' degraded agricultural land has become a functioning ecosystem again, heaving with life - all by itself. Personal and inspirational, Wilding is an astonishing account of the beauty and strength of nature, when it is given as much freedom as possible.
Buy On:
Book Depository €9.07 Waterstones £8.49 Wordery $11.68

(All links earn commission from purchases. Prices accurate at time of writing)
Q. Do you have a favourite childhood book?
My absolute favourite book as a child was the The Robber Hotzenplotz written by Otfried Preussler. It tells of a malevolent, but hapless robber who steals Kasperl's granny's musical coffee mill. Kasperl and his friend Seppel bravely head off on an adventure to retrieve it, but Hotzenplotz enlists the help of his wicked magician friend Petrosilius Zackleman, a gluttonous villain with a weakness for fried potatoes. The story is a bit like a Punch and Judy show, and is actually based on folk tales from a region in eastern Germany. The book is beautifully illustrated. It was first published in German in 1962 and was then translated in 34 languages, and sold 7.5 million copies.


The Robber Hotzenplotz
Review From Book Depository: "The Robber Hotzenplotz" is a well-known German children's book by famous writer Otfried Preußler. In this edition, readers of all ages can follow a funny story full of twists and turns about the coarse robber, clever Kasperl and clumsy Seppel. Paperback with black and white illustrations.

The wicked robber Hotzenplotz is the terror of the village. Whatever he wants, he steals, and as he is always armed with a sword, a pistol and seven knives, even Sergeant Dimpelmoser is frightened of him. But when he takes Grandmother's musical coffee mill, Kasperl and Seppel think it is just too much!



Buy On:
Book Depository €8.87

(All links earn commission from purchases that help fund this site. Prices accurate at time of writing)
Q. Do you prefer reading on paper, Kindle or listening to an audiobook?
I adore reading on paper. Too much of our lives are on screen already. I have a strong compulsion to keep away from digital formats after work. I like that I can easily skip ahead, or reread a piece, or scan it easily in a book, and that my brain has a spatial sense of where an idea or a fact was on any particular page.


Q. Do you have a favourite bookshop (and why that shop)?
For the pure romance of it, few bookshops can beat the great Atlantis Books in the tiny, white-washed, clifftop village of Oia on the Greek island of Santorini. It's a bit like Shakespeare and Co in Paris, but even kookier and cosier. I worship libraries. All of them, in all counties and all countries. When I tell people about my previous travel books and my new book I always recommend they get it in a library. The sustainability of libraries is visionary. Librarians are now so kind, generous, helpful and knowledgeable compared to the prim, stern wardens of old. The advances in the library system in Ireland in recent years is astounding. I can order any book from any library in the country and then drop it back to any other library. It's mind boggling!
~

Míle Buíochas / Many thanks to Manchán for recommending a fantastic list of books! Please don't forget to check out his book Thirty-Two Words for Field : Lost Words of the Irish Landscape.
Daryl
Image Copyrights: Gill (Thirty-Two Words For Field), HarperCollins Publishers (The Hidden Life Of Trees), Pan Macmillan (Wilding), Thienemann (The Robber Hotzenplotz).
< Home