Interview with Seb Falk, author of The Light Ages: A Medieval Journey of Discovery

Seb Falk, author of The Light Ages: A Medieval Journey of Discovery, recommends a great range of history books! Before jumping into the interview, please check out Seb's book: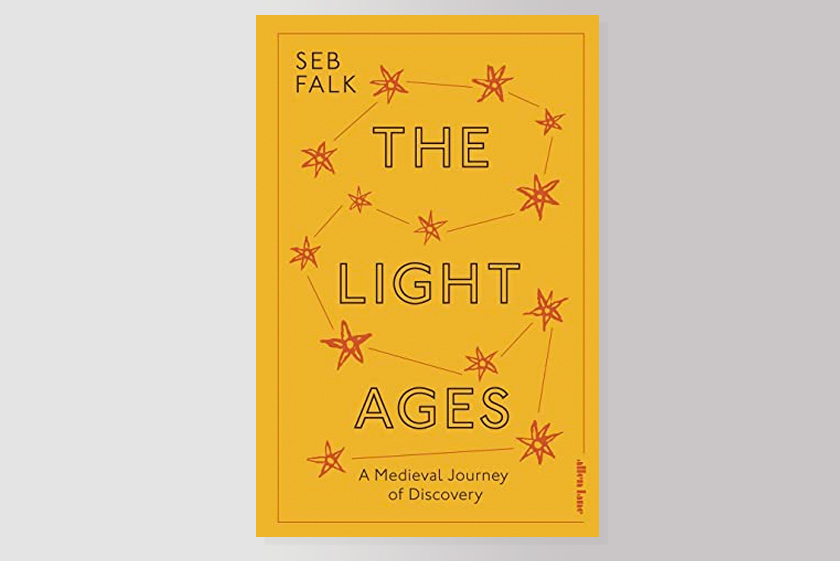 The Light Ages: A Medieval Journey of Discovery
Review from Book Depository: The Middle Ages were a time of wonder. They gave us the first universities, the first eyeglasses and the first mechanical clocks as medieval thinkers sought to understand the world around them, from the passing of the seasons to the stars in the sky.

In this book, we walk the path of medieval science with a real-life guide, a fourteenth-century monk named John of Westwyk - inventor, astrologer, crusader - who was educated in England's grandest monastery and exiled to a clifftop priory. Following the traces of his life, we learn to see the natural world through Brother John's eyes: navigating by the stars, multiplying Roman numerals, curing disease and telling the time with an astrolabe.

We travel the length and breadth of England, from Saint Albans to Tynemouth, and venture far beyond the shores of Britain. On our way, we encounter a remarkable cast of characters: the clock-building English abbot with leprosy, the French craftsman-turned-spy and the Persian polymath who founded the world's most advanced observatory.

An enthralling story of the struggles and successes of an ordinary man and an extraordinary time, The Light Ages conjures up a vivid picture of the medieval world as we have never seen it before.
Buy On:
Book Depository €16.34 Waterstones £17.99 Wordery $19.42

(All affiliate links earn commission from purchases that help fund this site. Prices accurate at time of writing)
~

Q. Do you have a favourite smart thinking book (and why that book)?
The book that really opened my mind to the wonders of the Middle Ages was a historical novel, Umberto Eco's The Name of the Rose. Eco himself was an expert on medieval philosophy, and he put all his knowledge into this thriller. It's been through film and TV adaptations but for the richness of description and complexity of ideas you have to read the book, in the fabulous translation by William Weaver.

One non-fiction book that I think deserves to be better known is The Hanged Man by Robert Bartlett. It is a microhistory, a short book which uses a single episode to explore a world. In this case it is the Church's investigation of an alleged miracle in the fourteenth century. As the Pope's commissioners examine the evidence about whether an executed Welshman really did come back to life, we learn a huge amount about medieval belief, society, the law, gender relations, and much more.


The Name of the Rose
Review From Book Depository: The year is 1327. Franciscans in a wealthy Italian abbey are suspected of heresy, and Brother William of Baskerville arrives to investigate. When his delicate mission is suddenly overshadowed by seven bizarre deaths, Brother William turns detective.

William collects evidence, deciphers secret symbols and coded manuscripts, and digs into the eerie labyrinth of the abbey where extraordinary things are happening under the cover of night. A spectacular popular and critical success, The Name of the Rose is not only a narrative of a murder investigation but an astonishing chronicle of the Middle Ages.
Buy On:
Book Depository €7.39 Waterstones £9.99 Wordery $11.74

(All links earn commission from purchases. Prices accurate at time of writing)
The Hanged Man: A Story of Miracle, Memory, and Colonialism in the Middle Ages
Review From Book Depository: Seven hundred years ago, executioners led a Welsh rebel named William Cragh to a wintry hill to be hanged. They placed a noose around his neck, dropped him from the gallows, and later pronounced him dead. But was he dead? While no less than nine eyewitnesses attested to his demise, Cragh later proved to be very much alive, his resurrection attributed to the saintly entreaties of the defunct Bishop Thomas de Cantilupe. The Hanged Man tells the story of this putative miracle--why it happened, what it meant, and how we know about it.

The nine eyewitness accounts live on in the transcripts of de Cantilupe's canonization hearings, and these previously unexamined documents contribute not only to an enthralling mystery, but to an unprecedented glimpse into the day-to-day workings of medieval society. While unraveling the haunting tale of the hanged man, Robert Bartlett leads us deeply into the world of lords, rebels, churchmen, papal inquisitors, and other individuals living at the time of conflict and conquest in Wales. In the process, he reconstructs voices that others have failed to find. We hear from the lady of the castle where the hanged man was imprisoned, the laborer who watched the execution, the French bishop charged with investigating the case, and scores of other members of the medieval citizenry. Brimming with the intrigue of a detective novel, The Hanged Man will appeal to both scholars of medieval history and general readers alike.
Buy On:
Book Depository €18.47 Waterstones £22.00 Wordery $20.58

(All links earn commission from purchases. Prices accurate at time of writing)
Q. What's the most recent smart thinking book you've read (and how would you rate it)?
I'm halfway through reading The Children of Ash and Elm: A History of the Vikings, by Neil Price. So many books about the Vikings focus on how they were viewed by the people they encountered (especially the English victims of their fearsome raids). This one explores them from the inside. Price is an archaeologist and the great strength of the book is the way he brings the Viking world to life through their material objects: not just monuments but clothes, toys and even, in one moving passage, a toddler's high chair. Some experts have criticised his use of written sources, which makes the Vikings seem more modern than perhaps they really were. But his book certainly succeeds in showing that they were much more than the one-dimensionally bloodthirsty warriors we often see.


The Children of Ash and Elm: A History of the Vikings
Review From Book Depository: The 'Viking Age' is traditionally held to begin in June 793 when Scandinavian raiders attacked the monastery of Lindisfarne in Northumbria, and to end in September 1066, when King Harald Hardrada of Norway died leading the charge against the English line at the Battle of Stamford Bridge. This book, the most wide-ranging and comprehensive assessment of the current state of our knowledge, takes a refreshingly different view. It shows that the Viking expansion began generations before the Lindisfarne raid, and traces Scandinavian history back centuries further to see how these people came to be who they were.

The narrative ranges across the whole of the Viking diaspora, from Vinland on the eastern American seaboard to Constantinople and Uzbekistan, with contacts as far away as China. Based on the latest archaeology, it explores the complex origins of the Viking phenomenon and traces the seismic shifts in Scandinavian society that resulted from an economy geared to maritime war. Some of its most striking discoveries include the central role of slavery in Viking life and trade, and the previously unsuspected pirate communities and family migrations that were part of the Viking 'armies' - not least in England.

Especially, Neil Price takes us inside the Norse mind and spirit-world, and across their borders of identity and gender, to reveal startlingly different Vikings to the barbarian marauders of stereotype. He cuts through centuries of received wisdom to try to see the Vikings as they saw themselves - descendants of the first human couple, the Children of Ash and Elm. Healso reminds us of the simultaneous familiarity and strangeness of the past, of how much we cannot know, alongside the discoveries that change the landscape of our understanding. This is an eye-opening and surprisingly moving book.
Buy On:
Book Depository €23.31 Waterstones £26.99 Wordery $27.05

(All links earn commission from purchases. Prices accurate at time of writing)
Q. Do you have a favourite childhood book?
I loved anything featuring Robin Hood and, when I was a bit older, Tolkien and Ursula Le Guin. But the book I read again and again was a retelling of (especially Greek) Myths and Legends by Anthony Horowitz. He told them with such drama and panache. I've just ordered a reprint to read to my five-year-old son – I can't wait!


Myths and Legends
Review From Book Depository: From a riddling sphinx to a monkey who would be king, here are 35 timeless myths and legends from around the world. Packed with action and humour, Anthony Horowitz's refreshingly different retellings provide a perfect introduction to the heroes and monsters of mythology, reissued with a brand-new cover and redesigned insides.



Buy On:
Abe Books $4.43

(All links earn commission from purchases that help fund this site. Prices accurate at time of writing)
Q. Do you prefer reading on paper, Kindle or listening to an audiobook?
Paper. I love the feel of a book, and I constantly flick back to remind myself of important or favourite passages. Sometimes I like to write in them (I study old books myself, and get very excited when I find what earlier readers have scrawled in the margins!). Most importantly, if I like a book, I want to be able to lend it to anyone. I do have an old Kindle which has been very useful when I've been travelling and don't want to bring heavy books, but I'd always rather have the physical codex.


Q. Do you have a favourite bookshop (and why that shop)?
Any bookshop with friendly, knowledgeable staff who give you the time and space to browse. It's a strange time to be going into bookshops but it has its advantages. For instance, my local, Heffers in Cambridge, has someone at the entrance asking customers to sanitise their hands; usually that person is reading a book so it's a great opportunity to have a chat about what they're reading and what's new in the shop. I also love G. David's, which is an independent antiquarian bookshop tucked away in a picturesque back street of Cambridge. I have picked up some memorable bargains and rare finds there!
~

Many thanks to Seb for his great book recommendations! Please don't forget to check out his book The Light Ages: A Medieval Journey of Discovery.
Daryl
Image Copyrights: Jason Bye (Seb Falk Portrait), Penguin Books Ltd (The Light Ages, The Children of Ash and Elm), Vintage Publishing (The Name of the Rose), Princeton University Press (The Hanged Man), Kingfisher (Myths and Legends).
< Home