Interview with Jane Davidson, author of #futuregen : Lessons from a Small Country

Jane Davidson, author of #futuregen : Lessons from a Small Country, has some important recommendations for us this week! Before jumping into the interview, please check out Jane's book: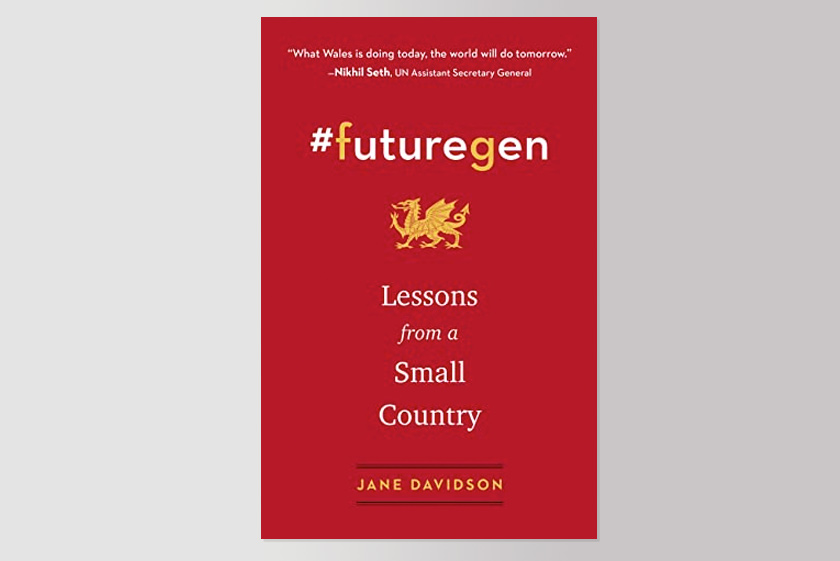 #futuregen : Lessons from a Small Country
Review from Book Depository: The story of how one small nation responded to global climate issues by radically rethinking public policy for future generations

In #futuregen, Jane Davidson explains how, as Minister for Environment, Sustainability and Housing in Wales, she proposed the Well-being of Future Generations (Wales) Act 2015-the first piece of legislation on Earth to place regenerative and sustainable practice at the heart of government. Unparalleled in its scope and vision, the Act connects environmental and social health and looks to solve complex issues such as poverty, education and unemployment.

Davidson reveals how and why such groundbreaking legislation was forged in Wales-once reliant on its coal, iron and steel industries-and explores how the shift from economic growth to sustainable growth is creating new opportunities for communities and governments all over the world.
#futuregen is the inspiring story of a small, pioneering nation discovering prosperity through its vast natural beauty, renewable energy resources and resilient communities. It's a living, breathing prototype for local and global leaders as proof of what is possible in the fight for a sustainable future.
Buy On:
Book Depository €16.74 Waterstones £14.99

(All affiliate links earn commission from purchases that help fund this site. Prices accurate at time of writing)
~

Q. Do you have a favourite smart thinking book (and why that book)?
Thinking in systems by Prof. Donella Meadows. She was inspirational to me in becoming interested in sustainability through her Limits to Growth in 1972 where she clearly demonstrated that exponential growth is incompatible with the world's finite resources. Thinking in Systems is the how to address the issues. She breaks down very complex thinking into bite sized chunks so effective action can be achieved through the right processes.
Thinking in Systems: A Primer
Review From Book Depository In the years following her role as the lead author of the international bestseller, Limits to Growth--the first book to show the consequences of unchecked growth on a finite planet-- Donella Meadows remained a pioneer of environmental and social analysis until her untimely death in 2001. Meadows' newly released manuscript, Thinking in Systems, is a concise and crucial book offering insight for problem solving on scales ranging from the personal to the global. Edited by the Sustainability Institute's Diana Wright, this essential primer brings systems thinking out of the realm of computers and equations and into the tangible world, showing readers how to develop the systems-thinking skills that thought leaders across the globe consider critical for 21st-century life.

Some of the biggest problems facing the world--war, hunger, poverty, and environmental degradation--are essentially system failures. They cannot be solved by fixing one piece in isolation from the others, because even seemingly minor details have enormous power to undermine the best efforts of too-narrow thinking. While readers will learn the conceptual tools and methods of systems thinking, the heart of the book is grander than methodology. Donella Meadows was known as much for nurturing positive outcomes as she was for delving into the science behind global dilemmas. She reminds readers to pay attention to what is important, not just what is quantifiable, to stay humble, and to stay a learner. In a world growing ever more complicated, crowded, and interdependent, Thinking in Systems helps readers avoid confusion and helplessness, the first step toward finding proactive and effective solutions.
Buy On:
Book Depository €11.39 Waterstones £14.99 Wordery $13.85

(All links earn commission from purchases. Prices accurate at time of writing)
The Limits to Growth: The 30-Year Update
Review From Book Depository In 1972, three scientists from MIT created a computer model that analyzed global resource consumption and production. Their results shocked the world and created stirring conversation about global 'overshoot', or resource use beyond the carrying capacity of the planet. Now, preeminent environmental scientists Donnella Meadows, Jorgen Randers, and Dennis Meadows have teamed up again to update and expand their original findings in The Limits to Growth: The 30 Year Global Update.

Meadows, Randers, and Meadows are international environmental leaders recognized for their groundbreaking research into early signs of wear on the planet. Citing climate change as the most tangible example of our current overshoot, the scientists now provide us with an updated scenario and a plan to reduce our needs to meet the carrying capacity of the planet.

Over the past three decades, population growth and global warming have forged on with a striking semblance to the scenarios laid out by the World3 computer model in the original Limits to Growth. While Meadows, Randers, and Meadows do not make a practice of predicting future environmental degradation, they offer an analysis of present and future trends in resource use, and assess a variety of possible outcomes.

In many ways, the message contained in Limits to Growth: The 30-Year Update is a warning. Overshoot cannot be sustained without collapse. But, as the authors are careful to point out, there is reason to believe that humanity can still reverse some of its damage to Earth if it takes appropriate measures to reduce inefficiency and waste. Written in refreshingly accessible prose, Limits to Growth: The 30-Year Update is a long anticipated revival of some of the original voices in the growing chorus of sustainability. Limits to Growth: The 30 Year Update is a work of stunning intelligence that will expose for humanity the hazy but critical line between human growth and human development.
Buy On:
Book Depository €17.47 Waterstones £16.99 Wordery $16.20

(All links earn commission from purchases. Prices accurate at time of writing)
Q. What's the most recent smart thinking book you've read (and how would you rate it)?
Doughnut Economics by Kate Raworth. Kate is another academic (an economist) who can speak to people in ordinary language. The doughnut is a visual representation of living within planetary boundaries and social boundaries. Outside are the limits that must not be overshot; in the hole are the people who lack access to necessities. The model enables economic models to be re-framed. 10/10
Doughnut Economics: Seven Ways to Think Like a 21st-Century Economist
Review From Book Depository Economics is broken, and the planet is paying the price. Unforeseen financial crises. Extreme wealth inequality. Relentless pressure on the environment. Can we go on like this? Is there an alternative?

In Doughnut Economics, Oxford academic Kate Raworth lays out the seven deadly mistakes of economics and offers a radical re-envisioning of the system that has brought us to the point of ruin. Moving beyond the myths of 'rational economic man' and unlimited growth, Doughnut Economics zeroes in on the sweet spot: a system that meets all our needs without exhausting the planet. The demands of the 21st century require a new shape of economics. This might just be it.
Buy On:
Book Depository €8.92 Waterstones £9.99 Wordery $11.25

(All links earn commission from purchases. Prices accurate at time of writing)
Q. Do you have a favourite childhood book?
Swallows and Amazons – adventure, freedom, nature
Swallows and Amazons
Review From Book Depository The Walker children - also known as Captain John, Mate Susan, Able-Seaman Titty, and Ship's Boy Roger - set sail on the Swallow and head for Wild Cat Island. There they camp under open skies, swim in clear water and go fishing for their dinner. But their days are disturbed by the Blackett sisters, the fierce Amazon pirates. The Swallows and Amazons decide to battle it out, and so begins a summer of unforgettable discoveries and incredible adventures.
Buy On:
Book Depository €7.62 Waterstones £7.99 Wordery $9.88

(All links earn commission from purchases. Prices accurate at time of writing)
Q. Do you prefer reading on paper, Kindle or listening to an audiobook?
All three – Kindle in snatches of spare time, a paper book for bedtime and audiobooks while driving, gardening or in the bath.


Q. Do you have a favourite bookshop (and why that shop)?
Independent bookshops anywhere and Richard Booth's bookshop in Hay on Wye in particular - because it started a town's revolution and now there are more books per head of population in Hay than anywhere else. The town hosts the amazing Hay Literary Festival, that this year went digital because of COVID and reached hundreds of thousands of people internationally – all from a tiny town on the Welsh border.
~

Diolch yn fawr to Jane for answering my questions and for her fascinating book recommendations! Please don't forget to check out her book #futuregen : Lessons from a Small Country.
Daryl
Image Copyrights: Chelsea Green Publishing Co (#futuregen, Thinking in Systems, Limits to Growth), Cornerstone (Doughnut Economics), Vintage Publishing (Swallows and Amazons)
< Home