Interview with Will Polston, author of North Star Thinking: Master your mindset and live a life you love

Will Polston, author of North Star Thinking: Master your mindset and live a life you love recommends an essential selection of books! Before jumping into the interview, please check out Will's book:
Automate Your Busywork: Do Less, Achieve More, and Save Your Brain for the Big Stuff
Description from Bookshop.org: If you are ambitious and driven, but feel stuck in a rut, directionless or overwhelmed, imagine what it would be like to live a life that you love.
You can make it happen.

North Star Thinking will transform the way you approach work and life. It gives you the tools and techniques to think and act differently, master your mindset and productivity, and create your guiding North Star.

Read this book and learn how to:
·Get clear on where you are now and where you want to be
·Free yourself from limiting beliefs
·Master your mindset and create habits that stick
·Take control of your time and energy to create a fulfilling work-life balance
·Live your life by design


Buy On:
Bookshop.org UK £13.29 Bookshop.org US $17.99 Blackwells £13.99 Waterstones £13.99 Wordery $17.94

(All links earn commission from purchases. Prices accurate at time of writing)
~

Q. Do you have a favourite smart thinking book (and why that book)?
As a Man Thinketh by James Allen. I think James has captured timeless wisdom and if one lives their life by that way of thinking along it can have a hugely positive impact on their life. I think that there is not another book on the planet that can have an impact on someone thinking so much in so little words as this book. Every line has golden nuggets in it. 


As a Man Thinketh
Description from Bookshop.org: Originally published in 1903, James Allen's As A Man Thinketh reveals the fundamental truth of human nature: "A man is literally what he thinks." Allen's deceptively simple principle has changed the lives of millions of readers, making As A Man Thinketh a classic bestseller for decades.

Allen explains that our character, identity, ability, and success are all determined by the thoughts in our minds. Instead of finding ourselves victims of the world, there exists within each of us the ability to shape and define our own destinies. Finances, health, social status, and success are all external manifestations of the thoughts that populate our minds. Allen offers his readers an opportunity to seize control of their minds and in doing so create the lives they've always imagined.

Buy On:
Easons €6.92 Bookshop.org UK £11.39 Bookshop.org US $11.15 Blackwells £22.95 Waterstones £6.99 Wordery $8.96

(All links earn commission from purchases. Prices accurate at time of writing)
Q. What's the most recent smart thinking book you've read (and how would you rate it)?
Young Forever by Mark Hyman. I'd give it an 8.5 as it explains the topic of living for longer in a way that is easily understandable, practical and enjoyable to read.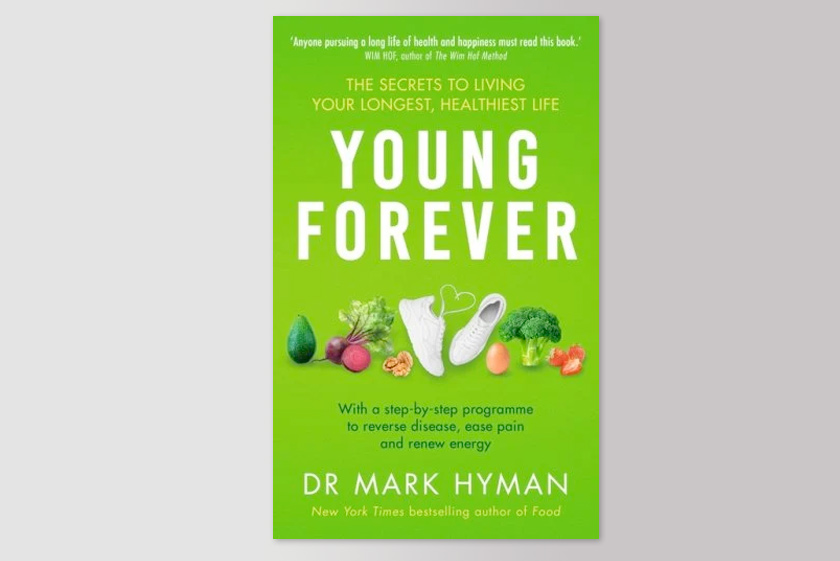 Young Forever: The Secrets to Living Your Longest, Healthiest Life
Description from Bookshop.org: Aging has long been considered a normal process. We think disease, frailty, and gradual decline are inevitable parts of life. But they're not. Science today sees aging as a treatable disease. By addressing the root causes of aging we can not only increase our health span and live longer but prevent and reverse the diseases of aging - including heart disease, cancer, diabetes, and dementia.

In Young Forever, Dr Mark Hyman challenges us to reimagine our biology, health, and the process of aging. To uncover the secrets to longevity, he explores the biological hallmarks of aging, its causes, and its consequences - then shows us how to overcome them with simple dietary, lifestyle, and emerging longevity strategies.

You will learn:
·How to optimize your body's Key Longevity Switches
·How to reduce inflammation and support the health of your immune system
·How to exercise, sleep, and de-stress for healthy aging
·How to eat your way to a long life, featuring Dr Hyman's Pegan Diet
·Which supplements are right for you
·Where the research on aging is headed


With dozens of tips as well as an age-defying diet and lifestyle plan and Dr Hyman's Healthy Aging Shake recipe, Young Forever is a revolutionary, practical guide to creating and sustaining health - for life.

Buy On:
Easons €18.62 Bookshop.org UK £16.14 Bookshop.org US $26.97 Blackwells £16.99 Waterstones £16.99 Wordery $20.78

(All links earn commission from purchases. Prices accurate at time of writing)
Q. Do you have a favourite childhood book?
I never read many books as a child but I love Peter Pan. I think many of the concepts in Peter Pan are brilliant metaphors for life.
Peter Pan
Review From Bookshop.org: J. M. Barrie's classic children's story is reimagined in this delightful full-color deluxe edition filled with all-new illustrations and ten removable features specially designed by MinaLima, the award-winning design studio behind the graphics for the Harry Potter films. For more than a century, the adventures of Peter Pan-the boy who can fly and never grows up-and Wendy Darling have captured the hearts of generations of readers.

In this enchanting illustrated volume, the fantastical world of Neverland and its magical inhabitants, including the Lost Boys, Captain Hook, Tiger Lily, and the beloved Tinker Bell, are brought to life like never before. Peter Pan is packed with a lush array of colorful illustrations and interactive removable features, including a detailed map of Neverland, a croc o'clock with hands you can rotate to tell time, Peter's shadow, and more. Beautiful and captivating, filled with breathtaking artwork, this stunning book is sure to become a treasured keepsake for fans of all ages.

Buy On:
Easons €35.00 Bookshop.org UK £23.75 Bookshop.org US $20.23 Blackwells £75.00 Waterstones £3.99 Wordery $32.05

(All links earn commission from purchases that help fund this site. Prices accurate at time of writing)
Q. Do you prefer reading on paper, Kindle or listening to an audiobook?
Audiobook and listening at 2-3x speed whilst driving.
Q. Do you have a favourite bookshop (and why that shop)?
My local Waterstones. I love just walking in there and feeling the energy, like it's a treasure trove of wisdom and adventure just waiting to be exercised.
~

Many thanks to Will for recommending an essential selection of books! Please don't forget to check out North Star Thinking: Master your mindset and live a life you love.
Daryl
Image Copyrights: Rethink Press (North Star Thinking), St. Martin's Essentials (As A Man Thinketh), Little, Brown Spark (Young Forever), Harper (Peter Pan).

< Home