Authors Christmas Recommendations 2023 - Part I

Welcome to a special series of posts in the run up to the holiday season! I asked some of the lovely authors that have previously appeared on the site about their Christmas book recommendations for this year. They graciously replied with some fantastic book picks! Hopefully these book recommendations might help you with your own Christmas shopping gift ideas too! :-)
~

Q. Is there a smart thinking book that you are looking forward to reading this Christmas, or one you would like to give or receive as a gift?
Heidi L. Maibom
The Language of the Goddess by Marija Gimbutas.

The Language of the Goddess: Unearthing the Hidden Symbols of Western Civilization
Review from Bookshop.org: The Goddess is the most potent and persistent feature in the archaeological records of the ancient world. She was a symbol of the unity of life in nature, and the personification of all that was sacred and mysterious on Earth. Here, in this pioneering and provocative volume, Marija Gimbutas resurrects the world of Goddess-worshipping, earth-centred cultures, bringing ancient matriarchal society vividly to life.

She interweaves comparative mythology, early historical sources, linguistics, ethnography and folklore to demonstrate conclusively that Goddess-worship is at the root of Western civilization. Illustrated with nearly 2000 symbolic artifacts - sculptures, figurines, temple models, frescos, vases, sacrificial containers - Gimbutas' magnum opus is at once a 'pictorial script' of the prehistoric Goddess religion and an authoritative work that takes these ancient cultures from the realm of speculation into that of documented fact.

Buy On:
Bookshop.org UK

£18.00

Waterstones

£18.95

(All links earn commission from purchases. Prices accurate at time of writing)

You can read Heidi's previous interview & book recommendations here, and please also check out Heidi's book The Space Between : How Empathy Really Works.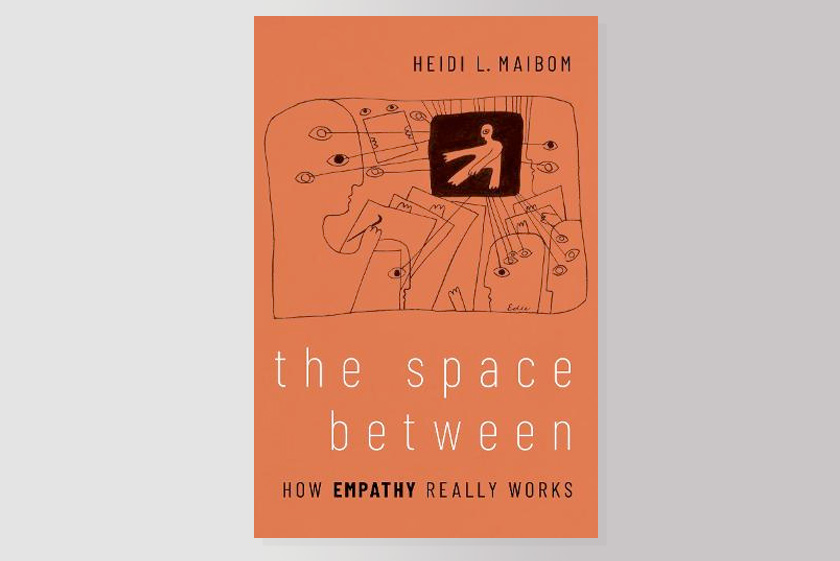 The Space Between : How Empathy Really Works
Review from Bookshop.org UK: When Barack Obama nominated Sonia Sotomayor to the US Supreme Court, his comments that a judge should have "the heart, the empathy, to recognize what it's like to be a young teenage mom, the empathy to understand what it's like to be poor or African-American or gay, disabled, or old" caused a furor. Objective, reasoned, and impartial judgment were to be replaced by partiality, sentiment, and bias, critics feared. This concern about empathy has since been voiced not just by conservative critics, but by academics and public figures. In The Space Between, Heidi Maibom combines results from philosophy, psychology, and neuroscience to argue that rather than making us more biased or partial, empathy makes us more impartial and more objective.

The problem is that we don't see the world objectively in the first place, Maibom explains. We see it in terms of how we are placed in it: as an extension of our interests, capabilities, and relationships. This is a perspective and it determines what we pay attention to, how we interpret events, and what matters to us individually. It is not private, however. By means of the imagination, Maibom contends, we can place ourselves in another person's web interests, capabilities, and relationships and, viewing the world from there, experience a new way of interpreting and valuing what happens. This broadens and deepens our understanding of others and the world around us. It also helps us understand the greater reality of who we are ourselves.

Maibom's book weaves together results from philosophy, psychology, and neuroscience to provide a positive up-to-date view of what it really means to take another person's perspective, and how empathy, rather than being the enemy of objectivity, is the foundation of it.

Buy On:
Easons

€32.19
Bookshop.org UK

£26.49
Bookshop.org US

$43.69
Blackwells

£26.49
Waterstones

£26.49
(All links earn commission from purchases. Prices accurate at time of writing)
Janet Reibstein
Philippe Sands' East West Street (Weidenfeld and Nicholson) published in 2016 is sadly all too relevant today . The address refers to a street in Lvov, now in Ukraine though its nationality bounced around turbulently over the past two centuries (Russia, a briefly independent Ukraine, then Poland, then Russia, then Germany; now back to Ukraine). Yet, until Nazism despite such fluctuations some 100,000 Jews remained, imbuing its urban character with their culture. It is the story, by default, then, of a dramatically drained and changed Lvov and its East West Street as the story becomes primarily a memoir of three characters, all Jewish, who were born either on or near East West Street, around the same time as each other; all were raised there and finally forced to flee from Lvov. Two changed the world through their work: the lawyers and academics, Hans Lauterpacht and Raphael Lemkin. The third is Leo Buchholz, the author's grandfather, whose story reflects that of most Jews from East West Street: a story of diaspora and families disrupted, destroyed, and lives lost. Lauterpacht and Lemkin independently established in their respectively groundbreaking legal work the clear nationally agreed upon ethics that civil societies operate on today. Lauterpacht, based in the UK, evolved the concept and working definition of 'crimes against humanity'-- a legal principle first employed in the Nuremberg trials, and Lemkin, based eventually in the US, founded the concept and legal definition of 'genocide', which found its first application in the charter of the United Nations a few years later. The book is sadly and ironically resonant for us today: wars in Ukraine, the present nationality for Lvov, and in Israel, the Jewish homeland created in the aftermath of Nazism and World War II. And the cries of 'genocide' and 'crimes against humanity' have been invoked not just in reference to the present wars but also for too many others since the ending of World War II.

The stories of these three are gripping as is the story of Lvov, itself, through the dramas of the lives of these three Lvov-ites, who grew up near each other but never met. Philippe Sands is, himself, an eminent lawyer and academic in the UK, who knew his "French" grandparents, but not their painful past, about which, as with many survivors, they were silent. He digs into that past, as he digs into the lives of Lauterpacht and Lemkin and the effect their work and its evolution has had on what in the end became the Nuremberg trials and others since. And, in doing so, into the tale comes another strand: the Nazi, Hans Frank, the 'ruler' of Poland, once, indeed, the nation to which Lvov had belonged. Indeed, as he researches Frank he meets the son who, horrified by his father, helps Sands, and so becomes part of the story as well. The strands pull together at Frank's trial, in Nuremberg: he is sentenced to death for 'crimes against humanity', an act that sought at least in principle to deliver justice for those, as from Lvov, from East West Street, murdered by Frank and his ilk, as well as for those who survived---like Buchholz, like Lauterpacht, like Lemkin-- whose lives as they had known them had been summarily demolished.

As I say, there is grim resonance for today, but also inspiration. It's also a story of the human spirit playing out in these men's rebuilt lives through the direst of times. And further in the passionate and dogged pursuit by two different displaced citizens of East West Street to establish frameworks that have enshrined decency and humanity, each defining a code of ethics for nations. It's also a gripping read. Highly recommended.
East West Street: On the Origins of "Genocide" and "Crimes Against Humanity"
Review from Bookshop.org UK: When he receives an invitation to deliver a lecture in the Ukrainian city of Lviv, international lawyer Philippe Sands begins a journey on the trail of his family's secret history. In doing so, he uncovers an astonishing series of coincidences that lead him halfway across the world, to the origins of international law at the Nuremberg trial.

Interweaving the stories of the two Nuremberg prosecutors (Hersch Lauterpacht and Rafael Lemkin) who invented the crimes or genocide and crimes against humanity, the Nazi governor responsible for the murder of thousands in and around Lviv (Hans Frank), and incredible acts of wartime bravery, EAST WEST STREET is an unforgettable blend of memoir and historical detective story, and a powerful meditation on the way memory, crime and guilt leave scars across generations.

Buy On:
Easons

€10.49

Bookshop.org UK

£9.49

Bookshop.org US

$18.60

Blackwells

£8.99

Waterstones

£9.99

Wordery

$12.49

(All links earn commission from purchases. Prices accurate at time of writing)

You can read Janet's previous interview & book recommendations here, and please also check out Janet's book Good Relations: Cracking the code of how to get on better.


Pico Iyer
Can I give you two books, one fiction and one non-fiction?
The best novel I've read—and reread—in the past few seasons is Matrix, by Lauren Groff.
The best piece of non-fiction I've read, if you needed another choice, is Islands of Abandonment, by Cal Flyn.
Islands of Abandonment : Life in the Post-Human Landscape
Review from Bookshop.org UK: This is a book about abandoned places: ghost towns and exclusion zones, no man's lands and fortress islands - and what happens when nature is allowed to reclaim its place.

In Chernobyl, following the nuclear disaster, only a handful of people returned to their dangerously irradiated homes. On an uninhabited Scottish island, feral cattle live entirely wild. In Detroit, once America's fourth-largest city, entire streets of houses are falling in on themselves, looters slipping through otherwise silent neighbourhoods.

This book explores the extraordinary places where humans no longer live - or survive in tiny, precarious numbers - to give us a possible glimpse of what happens when mankind's impact on nature is forced to stop. From Tanzanian mountains to the volcanic Caribbean, the forbidden areas of France to the mining regions of Scotland, Flyn brings together some of the most desolate, eerie, ravaged and polluted areas in the world - and shows how, against all odds, they offer our best opportunities for environmental recovery.

By turns haunted and hopeful, this luminously written world study is pinned together with profound insight and new ecological discoveries that together map an answer to the big questions: what happens after we're gone, and how far can our damage to nature be undone?

Buy On:
Easons

€14.00

Bookshop.org UK

£9.49

Bookshop.org US

$16.74

Blackwells

£9.99

Waterstones

£8.49

Wordery

$12.49

(All links earn commission from purchases. Prices accurate at time of writing)

You can read Pico's previous interview & book recommendations here, and please also check out Pico's book The Half Known Life: In Search of Paradise:


Charles Dunst
I just finished – and loved – In Memoriam: A Novel, by Alice Winn. It's not necessarily the happiest book, but it's quite wonderful (and British) and will stick with me for a long time.
In Memoriam
Review From Bookshop.org UK: In 1914, war feels far away to Henry Gaunt and Sidney Ellwood. They're too young to enlist, and anyway, Gaunt is fighting his own private battle - an all-consuming infatuation with the dreamy, poetic Ellwood - not having a clue that his best friend is in love with him, always has been.

When Gaunt's mother asks him to enlist in the British army to protect the family from anti-German attacks, he signs up immediately, relieved to escape his overwhelming feelings. But Ellwood and their classmates soon follow him into the horrors of trenches. Though Ellwood and Gaunt find fleeting moments of solace in one another, their friends are dying in front of them, and at any moment they could be next.

An epic tale of the devastating tragedies of war and the forbidden romance that blooms in its grip, In Memoriam is a breathtaking debut.

Buy On:
Easons

€21.00

Bookshop.org UK

£6.14

Bookshop.org US

$16.74

Blackwells

£9.99

Waterstones

£12.99

Wordery

$18.74

(All links earn commission from purchases. Prices accurate at time of writing)

You can read Charles' previous interview & book recommendations here, and please also check out Charles' latest book Defeating the Dictators: How Democracy Can Prevail in the Age of the Strongman:


Eleanor Tucker
I would love the new Mary Beard book about the Roman Empire, Emperor of Rome as a gift - shows women think about the Roman Empire too!
Emperor of Rome: Ruling the Ancient Roman World
Review from Bookshop.org UK: What was it really like to rule and be ruled in the Ancient Roman world?

In her international best-seller SPQR, Mary Beard told the thousand-year story of ancient Rome. Now, she shines her spotlight on the emperors who ruled the Roman empire, from Julius Caesar (assassinated 44 BCE) to Alexander Severus (assassinated 235 CE).

Emperor of Rome is not your usual chronological account of Roman rulers, one after another: the mad Caligula, the monster Nero, the philosopher Marcus Aurelius. Beard asks bigger questions: What power did emperors actually have? Was the Roman palace really so bloodstained? Emperor of Rome goes directly to the heart of Roman (and our own) fantasies about what it was to be Roman, offering an account of Roman history as it has never been presented before.

Buy On:
Easons

€33.99

Bookshop.org UK

£28.50

Bookshop.org US

£37.19

Blackwells

£30.00

Waterstones

£26.99

Wordery

$37.50

(All links earn commission from purchases. Prices accurate at time of writing)

You can read Eleanor's previous interview & book recommendations here, and please also check out Eleanor's latest book Thanks for Sharing: How I Gave Up Buying and Embraced Borrowing, Swapping and Renting:



~


Huge thanks to Heidi, Janet, Pico, Charles, & Eleanor for their great Christmas book picks!
Watch out next week for Part II of the series next week with more author recommendations :-)
Daryl




Image Copyrights: Thames & Hudson Ltd (The Language of the Goddess), Oxford University Press Inc (The Space Between), Orion Publishing Co (East West Street), Cornerstone (Matrix), HarperCollins Publishers (Islands of Abandonment), Bloomsbury Publishing PLC (Good Relations, The Half Known Life), Penguin Books Ltd (In Memoriam), Hodder & Stoughton (Defeating The Dictators), Profile Books Ltd (Emperor of Rome), Quarto Publishing PLC (Thanks for Sharing).


< Home