Interview with Richard Fisher, author of The Long View: Why We Need to Transform How the World Sees Time

Richard Fisher, author of The Long View: Why We Need to Transform How the World Sees Time recommends a stellar set of books! Before jumping into the interview, please check out Richard's book:
The Long View: Why We Need to Transform How the World Sees Time
Description from Bookshop.org: A wide-ranging and thought-provoking exploration of the importance of long-term thinking. Humans are unique in our ability to understand time, able to comprehend the past and future like no other species. Yet modern-day technology and capitalism have supercharged our short-termist tendencies and trapped us in the present, at the mercy of reactive politics, quarterly business targets and 24-hour news cycles.

It wasn't always so. In medieval times, craftsmen worked on cathedrals that would be unfinished in their lifetime. Indigenous leaders fostered intergenerational reciprocity. And in the early twentieth century, writers dreamed of worlds thousands of years hence. Now, as we face long-term challenges on an unprecedented scale, how do we recapture that far-sighted vision? Richard Fisher takes us from the boardrooms of Japan - home to some of the world's oldest businesses - to an Australian laboratory where an experiment started a century ago is still going strong. He examines the psychological biases that discourage the long view, and talks to the growing number of people from the worlds of philosophy, technology, science and the arts who are exploring smart ways to overcome them. How can we learn to widen our perception of time and honour our obligations to the lives of those not yet born?

Buy On:
Easons €35.00 Bookshop.org UK £23.75 Bookshop.org US $38.68 Waterstones £19.99 Wordery $25.32

(All links earn commission from purchases. Prices accurate at time of writing)
~

Q. Do you have a favourite smart thinking book (and why that book)?
This is a bit of a meta answer to a question about smart thinking...but the one I find myself returning to, time and again, is David Robson's The Intelligence Trap. It's about the blindspots of smart people – how a certain level of intelligence can hide biases, habits and behaviours that are irrational, unadvisable or even stupid. Basically, Robson argues that smart people are able to come up with all sorts of complex justifications for their choices, which can be difficult to unpick even for themselves. It can explain why seemingly well-educated people become climate deniers or enchanted by conspiracies, for instance. But Robson's book also offers a reminder of humility in regards to your own self. You're not as smart as you might like to believe.


The Intelligence Trap: Why Smart People Make Dumb Mistakes
Description from Bookshop.org: How was a brilliant physics professor tricked into carrying 2kg of cocaine across the Argentinian border? Why do doctors misdiagnose 10 to 15% of their patients? Why do Nobel Prize winners spread fake news?

We assume that smarter people are less prone to error. But greater education and expertise can often amplify our mistakes while rendering us blind to our biases. This is the 'intelligence trap'.

Drawing on the latest behavioural science and historical examples from Socrates to Benjamin Franklin, David Robson demonstrates how to apply our intelligence more wisely; identify bias and enhance our 'rationality quotient'; read and regulate our emotions; fine-tune our intuition; navigate ambiguity and uncertainty; and think more flexibly about seemingly intractable problems.

The twenty-first century presents us with complex problems that demand a wiser way of thinking. Whether you are a NASA scientist or a school student, The Intelligence Trap offers a new cognitive toolkit to realise your full potential.

Buy On:
Easons €11.20 Bookshop.org UK £9.49 Bookshop.org US $15.76 Waterstones £9.99 Wordery $10.99

(All links earn commission from purchases. Prices accurate at time of writing)
Q. What's the most recent smart thinking book you've read (and how would you rate it)?
I'm currently reading Lewis Dartnell's Being Human: How our biology shaped world history, out in June. It's a wonderful book about how human biology shaped history. I've always loved 'what if' alternate histories, and from the first pages, Dartnell invites this reflection through the lens of our bodies and minds...if you think about it, evolution could have taken us down different paths: we have a certain number of fingers on our hands, we thrive by cooperating not competing, we we are susceptible to certain diseases, biases...alcohol – all these things that make us human could have been different, but they're not, and they explain why the world is the way it is, how civilisations rose and fell, and what might lie in our future.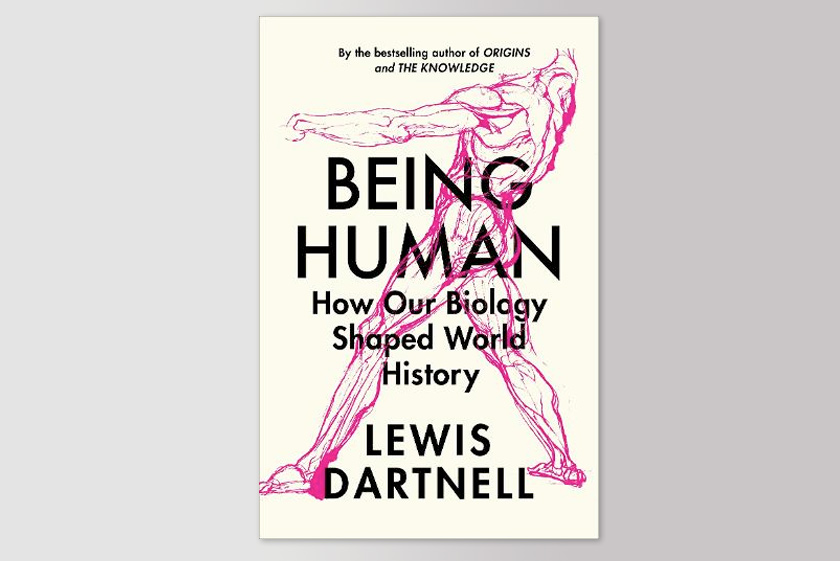 Being Human: How our biology shaped world history
Description from Bookshop.org: Being Human is history made flesh. It will change the way you see the world. We are a wonder of evolution. Powerful yet dextrous, instinctive yet thoughtful, we are expert communicators and innovators. Our exceptional abilities have created the civilisation we know today.

But we're also deeply flawed. Our bodies break, choke and fail, whether we're kings or peasants. Diseases thwart our boldest plans. Our psychological biases have been at the root of terrible decisions in both war and peacetime. This extraordinary contradiction is the essence of what it means to be human - the sum total of our frailties and our faculties. And history has played out in the balance between them. Now, for the first time, Lewis Dartnell tells our story through the lens of this unique, capricious and fragile nature. He explores how our biology has shaped our relationships, our societies, our economies and our wars, and how it continues to challenge and define our progress.

Buy On:
Bookshop.org UK £20.90 Waterstones £22.00

(All links earn commission from purchases. Prices accurate at time of writing)



Q. Do you have a favourite childhood book?
I loved Choose Your Own adventure books as a child - the ability to plot your own path. Looking back, that probably infIuenced my path to be a writer - preferring to have agency over where the plot goes! I also was heavily influenced by reading Jurassic Park by Michael Crichton as a teenager. It wasn't just the dinosaurs that fascinated me; it was the sense of what science can do, and how in human hands, it can often go astray. I think that influenced my path into science journalism: to explore all the discoveries that are out there, but also to question scientists and their work.
Jurassic Park
Description from Bookshop.org: On a remote jungle island, genetic engineers have created a dinosaur game park. An astonishing technique for recovering and cloning dinosaur DNA has been discovered. Now one of mankind's most thrilling fantasies has come true and the first dinosaurs that the Earth has seen in the time of man emerge.

But, as always, there is a dark side to the fantasy and after a catastrophe destroys the park's defence systems, the scientists and tourists are left fighting for survival... With this masterful cross of science fiction and action-adventure, Michael Crichton created one of the biggest bestsellers of all time, turned by Steven Spielberg into the highest grossing blockbuster ever in 1993.

Buy On:
Easons €8.79 Bookshop.org UK £9.49 Bookshop.org US $9.29 Waterstones £9.99 Wordery $11.99

(All links earn commission from purchases that help fund this site. Prices accurate at time of writing)



Q. Do you prefer reading on paper, Kindle or listening to an audiobook?
It depends what for. For pleasure reading, paper. For work reading, Kindle, because it's searchable and highlightable. Also Kindle on my phone is frankly easier to access while waiting in a shop queue. I do find that having a book on the same device as my social media accounts is not conducive to focused longform reading though. I haven't solved that problem. I tried experimenting recently with a text-to-audio app – Evie – that converted books into audio that aren't on Audible etc, but it didn't stick as a habit...it's still better to be read to by a human being, or to read yourself.
Q. Do you have a favourite bookshop (and why that shop)?
One that represents a happy memory is the Harvard Coop bookshop, near the university in Cambridge, Massachusetts. It was somewhere my family and I would visit often in 2019-20, when I was completing a research fellowship, down the street at MIT. At the front, it features all the books written by Harvard and MIT faculty, so every time I'd visit, would remind me how lucky we were to spend a year there, auditing classes, meeting interesting people, amid a culture of learning and knowledge. In Cambridge, almost everyone you meet is doing something fascinating. One example: I remember chatting once to one of the mothers as we waited for our daughters to pick them up from Girl Scouts. We did the usual small-talk. I asked her what she did. She said: "Oh, I make exoskeletons."
~

Many thanks to Richard for recommending a stellar set of books! Please don't forget to check out The Long View: Why We Need to Transform How the World Sees Time.
Daryl
Image Copyrights: Headline Publishing Group (The Long View), Hodder & Stoughton (The Intelligence Trap), Vintage Publishing (Being Human), Cornerstone (Jurassic Park)
< Home